Nerium's Josalyn And Erik Dean Keep On Pressing The Pedal
February 23, 2015
By Nicole Dunkley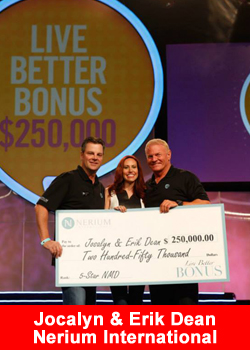 Josalyn and Erik Dean's family-owned, hospitality equipment business sold product through a 400-member distribution network that connected them to 15,000 hotels the world over.
They traveled the globe and operated a successful leveraged income business model for decades and during that time were often prospected by network marketers. But, as Erik puts it, "We said no for 20 years because, quite frankly, the products and services lacked differentiation." That is…until Nerium. "Nerium is different. It stands alone. It can't be copied. It's a game changer in the industry," Erik says.
The Dean's were impressed, not only with the differentiation of Nerium's products, but also with the company's approach to business building. "One of the things that most people hate about the industry is that nobody wants a garage full of product that nobody wants," Erik says. Nerium changed all that with free inventory.
"The best thing is we get the inventory free," he says about Nerium's inventory replacement program. "So you've got a product that essentially can't be copied and we've never had to go back to the company once in two and a half years to find more inventory than we've had in our house. It's a perfect model."
The Nerium model, the Dean's say, allows anyone to join. "Our audience is everybody and anybody with skin. We don't prejudge. Our only job is to show the playbook. We show everybody the playbook and they make their choice," Erik says.
As more and more of those prospects became Brand Partners, the Dean's Nerium team ballooned, earning them a $375,000 Live Better Bonus and long-term financial freedom.
"The money is there, but why take your foot off the pedal of this machine and model. The company is still expanding, so there's no stopping," Erik says. He's motivated to give his children more choices down the road. "It's all about having choices in life and making a difference."
"We don't have to do this anymore. We have good residual income. But I love to help other people succeed. I love it when one of our team members gets a Lexus or a $50,000 bonus. I love helping them improve their lives," Josalyn says.
"We really pride ourselves in working with every single Brand Partner that really wants this. We reach out to everyone on our team. It doesn't matter where they are, what level they are. We are helping everyone."
By helping others to reach their goals, the Dean's believe they will reach theirs. After all, Josalyn says, "Success is a team sport."
If you would like to contact Josalyn and Erik Dean, you may email them at [email protected]
About Nerium International
Nerium International, LLC, based in Addison, Texas, launched in the U.S. in 2011 breaking multiple industry growth records by marketing scientifically validated skincare products that generate age-defying results. Expert relationship marketers Mark Smith and Tammy Smith have been a powerful recruiting team since Nerium's inception. Decades of direct selling savvy in teambuilding and sales combined with Nerium's break-through patented skincare formulations and systematic business growth have allowed Mark and Tammy to become the #1 income earners in Nerium International. The Smith's agree that what attracts incredible people to Nerium is the fact that the company focuses on personal development, living a life of contribution and building a culture with class.