New Travel Company – Surge 365 Launching in Direct Sales Industry
February 22, 2015
By Team Business For Home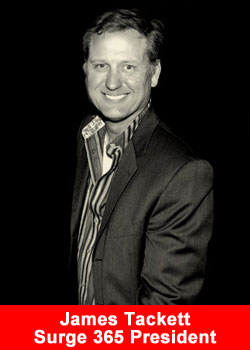 Investor Group Starts New Company focusing on Dream Travel and Home Based Business.
On March 2nd a brand new Direct Sales company, Surge 365, will begin USA and international operations.
The company will offer a unique, exclusive membership that will allow its members to travel at rock bottom prices.
Surge365, the startup network marketing company, announced today that James Tackett had signed paperwork naming him as president of the newly formed travel company.
"I'm absolutely thrilled," said Tackett.
"For 28 years I've been the guy behind the curtain writing, producing, and consulting for some of the biggest companies in Direct Sales. I have been approached numerous times to head companies and always politely declined.

But when I saw the Surge365 membership and the potential that this company has to change how travel is sold, I knew it was time."
Tackett, who was also one of the founding members of Success Partners, formerly Video Plus Inc. of Lake Dallas, TX, has done work for more than 50 of the top direct sales companies in the world, including billion dollar brands Avon, Herbalife, Oriflame, and Primerica. Having produced over well over 1,000 videos in various languages including Chinese, Spanish, and most recently Hindi, it is estimated that his videos have been seen by as many as 250 million people worldwide.
When asked if, as president, he will still be involved in the production side of the business, Tackett replied, "Absolutely, especially in this age of social media, videos are more important than ever and I'm going to make sure our Surge365 Business Associates have the best tools in the market. Including something brand new, a gamechanger, that has never been used in network marketing before
The company will market its services through a person to person referral model.
The company plans to announce a cutting edge, patent pending technology they report to be a unique new way to market the membership. They have also announced that they intend to offer a 110% price match guarantee on all online bookings.
This new technology will be used by their independent representatives, called Surge Business Associates, or SBAs, to share the membership with potential buyers. SBAs will be compensated by the company and have the potential to earn cash bonuses, cars, and luxury travel. Details about the new technology were not made available.
Those interested in becoming Surge365 Business Associates or Members are invited to review the company's plans at their website surge365.com.