Rodan + Fields Officially Launches In Canada
February 6, 2015
By Nicole Dunkley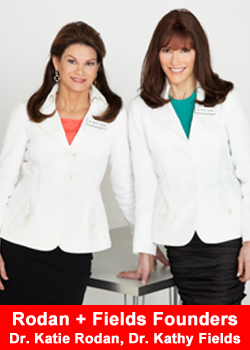 Rodan + Fields, the fastest growing company in premium skin care among leading companies last year in the U.S.*, began business operations in Canaday. Entry into the Canadian market is the first step in the company's market expansion outside the United States since the San Francisco-based company launched in 2008.
Rodan + Fields' focused business strategy has generated high double-digit compound annual growth, driving revenue for 2014 to more than $300 million USD, and with the addition of Canada to the business, the company sees significant opportunity for sustained profitable growth.
Our brand vision is a global one and our Canadian launch is a key strategic milestone on our globalization roadmap," said Lori Bush, President and CEO, Rodan + Fields.
"Our Canadian initiative not only addresses the demand for our products from our neighbors to the north, it validates the foundational infrastructure that will enable us to effectively extend our business model beyond North American borders.
In 2007, Rodan + Fields became the first prestige skincare line to exit the department store for the world of direct selling, with the brand reintroduced in 2008 as a newly-formed company. The company's thousands of Independent Consultants quickly generated revenue that far exceeded what leading department store chains achieved with the brand.
Developed by Stanford University-trained dermatologists Katie Rodan, M.D. and Kathy Fields, M.D., Rodan + Fields is at the forefront of clinical skincare for home use – merging effective over-the-counter medicines with well-proven cosmetic ingredients to provide real and visible results.
Dr. Rodan and Dr. Fields, the creators of the successful Proactiv skincare brand, have recognized that innovation in customer engagement is no less important than the innovation that goes into their skincare formulations and tools.
In 2013, Rodan + Fields won the American Business Award for Company of the Year – Consumer Products and has been awarded 12 Direct Selling Association Awards since 2010, including the Rising Star Award. Rodan + Fields was among the top five premium skin care companies in the U.S. in 2014.*
"We have always taken a personal approach to our business and this is the natural evolution," says Dr. Fields. "Our passion is treating skin concerns and a direct selling business model enables us to reach a wider consumer base with dermatologic-based skincare and also provide those who believe in the product a viable income opportunity," added Dr. Rodan.
In 2012 the Canadian skincare market grew by 5% reaching C$1.7 billion with anti-aging products registering the fastest growth of 9% totaling $ C700M *(Euromonitor report Sept 2013)

Rodan + Fields projects to grow the business to several thousand Independent Consultants and Preferred Customers within its first year in Canada
Rodan + Fields will offer select products in Canada, including: REDEFINE – a four?product regimen to combat the appearance of lines, pores and loss of firmness; REVERSE – a four-product regimen to treat brown spots, dullness and discoloration; SOOTHE – a four?product regimen for sensitive, irritated skin and facial redness; UNBLEMISH – a complete regimen to clear acne blemishes and help prevent new ones from forming; and REDEFINE AMP MD and Macro Exfoliator, novel skincare tools.
About Rodan + Fields:
Founded by Dr. Rodan and Dr. Fields, the creators of Proactiv Solution, Rodan + Fields is a leading skincare company committed not only to helping customers achieve great skin, but also to helping Consultants who sell the products build successful independent businesses. The Company made the unprecedented move out of department stores and into the world of direct selling in order to take the Doctors' successful dermatological philosophy and unique personal approach to business one step further. From problem identification and superior dermatological-based formulations to unprecedented support and follow-up, Rodan + Fields seeks to provide the most complete skincare experience outside of a medical office. Products are available through Rodan + Fields Independent Consultants and at www.rodanandfields.com/ca.