Talk Fusion Asian Team Set To Breakthrough In 2015
February 11, 2015
By Nicole Dunkley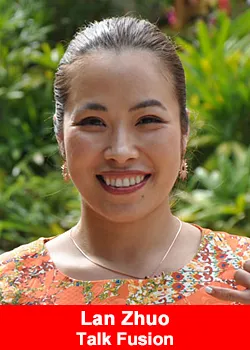 Since the January relaunch of Talk Fusion's CONNECT video communication products and the addition of new incentives and rewards to the company's Instant Pay Compensation Plan, Talk Fusion Associates are more excited than ever to share the opportunity with more people across the globe.
While impressive teams continue expanding in Indonesia and Russia, and plans are underway to make significant headway into South America, Diamond Associate Lan Zhuo from China has her own goal: share Talk Fusion throughout Asia.
"Asia has the most 'netizens' around the world who want to start their own business. They hope to enjoy the convenience of making money via the Internet. However, many of them lack either enough capital or professional knowledge for many businesses," said Lan.
"The good news is that, without a doubt, Talk Fusion offers the best business platform for anyone who desires to succeed. They can use the low cost, the fast speed, and the wide scope to participate in business globally through the internet. They can fully enjoy the great income potential of Talk Fusion's video communication products and really change their lives for the better."
Industry experience also does not have to be a barrier to sharing the opportunity and earning financial freedom, as Lan learned firsthand.
"Joining Talk Fusion is the first time I stepped into the Direct Selling industry. Although I have already reached the rank of Diamond, I know this is just the beginning and I must work harder. I must learn a lot from the Leaders."
Lan intends to bring the same success she has personally experienced to others throughout the region. "I feel so good in ways I haven't known before. In addition to the money, my life is no longer repetitious; I have changed my attitude and I now love my life. I live everyday with passion and a better outlook about the world."
Lan is determined to instill the same level of dedication she demonstrated in learning the power of duplication with new Associates. "The Asia market is full of opportunity so I must totally devote myself to learning and working hard to help our team members realize their dreams of success," she said. "I will share the Diamond Rush training and encourage them to use Talk Fusion CONNECT video technology.
"The Asian market is just a beginning. I fully believe the future of this unique market is bright and huge."

ABOUT TALK FUSION
A global leader in video communication products, Talk Fusion connects people around the world through cutting-edge video technology and the means to share it, empowering them to live their dreams. Talk Fusion's innovative video products are marketed person-to-person by independent Associates in more than 140 countries.
Founded in 2007 by CEO Bob Reina, Talk Fusion introduced the world's first Instant Pay Compensation Plan. Talk Fusion adheres to the highest ethical business practices and is a member of the prestigious Direct Selling Association (DSA). Reina firmly believes that "with great success comes greater responsibility."
Talk Fusion fosters a strong commitment to giving back to friends, family, communities, and animal charities across the world to produce a positive global change. Learn more at www.TalkFusion.com and "Like" Talk Fusion at www.facebook.com/TalkFusion.
Income Disclaimer:
Any earnings portrayed in any Talk Fusion marketing materials are not necessarily representative of the income, if any, that a Talk Fusion Associate can or will earn through his or her participation in the Talk Fusion Instant Pay Compensation Plan. All references to income, implied or stated, throughout the Talk Fusion Instant Pay Compensation Plan are for illustrative purposes only. These figures should not be considered as guarantees or projections of your actual earnings or profits. Talk Fusion does NOT guarantee any level of income or earnings to any Associate; any representation or guarantee of earnings would be misleading. The purchase of a Talk Fusion Product Package is completely optional and is not required for an Associate to participate in the Talk Fusion Instant Pay Compensation Plan.