The MLM Rookie Nomination Q1 – 2015
February 15, 2015
By Team Business For Home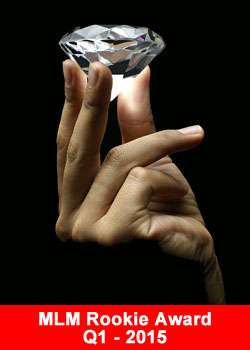 A MLM rookie is a distributor in his or her first year in Network Marketing – Direct Selling and breaking all records, the heavy hitter. The fresh blood every team needs, a leader right from the beginning, building up momentum.
Per year, this website receives a 3.5 – 4 million unique visitors from all over the world with the majority being Network Marketing professionals with approximately 25% visiting the website looking for a new or additional opportunities. An awesome platform for recognition.
A leader has a vision. Leaders see a problem that needs to be fixed or a goal that needs to be achieved. It may be something that no one else sees or simply something that no one else wants to tackle. Whatever it is, it is the focus of the leader's attention and they attack it with a single-minded determination.
Whether the goal is to double the team's annual sales, develop a training that will solve a certain problem, or start a team that can achieve the member's dream, the leader always has a clear target in mind.
You can nominate for the Q1 period (January – March) your favorite MLM rookie. We will publish their photo and will publish a top 50 or top 100. Recognition Pur Sang.
Please put in a facebook comment with his / her name and link to their facebook page, so we can pull a picture. After the nomination proces we wil organize a poll.
The MLM Rookie nomination criteria:
1. Less then 1 year in the MLM – Direct Selling business
2. No previous MLM – Direct Selling experience
3. Has built a large – solid team.
The nominees:
| | | | |
| --- | --- | --- | --- |
| | | | |
| David Cook | Brian Bramer | Nikki Witherspoon | Jesse Singh |
| | | | |
| Naomi Martinez | Jesse Pedneault | Ilhan Özcan | Hayley Jackson |
| | | | |
| Katie Louise Hamer | Madalina Ungureanu | EQ Roxana AnaMaria | Sergiu Voicea |
| | | | |
| Claire Danielle Cowan | Bart Allan Miller | Brett Williams | Chris Perry |
| | | | |
| Manuel Soto | | | |