Top Industry Leader, Scott Falany, Joins Jeunesse
February 23, 2015
By Tina Williams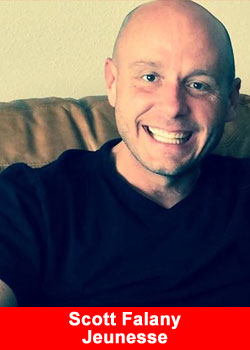 Jeunesse is proud to announce the addition of industry all-star, Scott Falany, to its global network of distributors. The company's record sales growth and innovative, anti-aging products continue to attract some of the most recognized members of the industry.
After a video demonstration of Jeunesse's Instantly Ageless product went viral on social media websites and gained the attention of many leaders in the direct sales industry, Scott was drawn to the product's powerful effects and the simplicity of its demonstration.
Scott's 25-year journey in the world of network marketing has seen massive success. As a vital member of three multibillion-dollar companies, he has led teams that have generated more than $100 million in sales volume over the course of his career. In addition, he has made millions of dollars in personal sales, firmly placing him among the most prosperous and talented in the industry. His key strategy is simple: "work 10 times harder than everyone else and help 10 times the number of people."
Scott's passion for network marketing is rooted in building relationships. Seeing other people succeed not only motivates him, it also motivates his family. "We enjoy the fact that we can build a business as a family and spend a lot of time together," Scott said. "This is not ordinarily the case with a traditional job. The time and resources I have to positively impact people's lives is a direct result of our success in this industry."
Scott said several of his closest friends in the industry have already begun netting impressive profits since joining Jeunesse. Given the current trend toward rapid growth in the anti-aging market, Scott says he is eager to work with a product line he considers part of the "wave of the future."
Scott and his family reside near Jeunesse Global Headquarters in the greater Orlando area and are active members of their church and community.
About Jeunesse
Jeunesse is a leading direct selling company devoted to encouraging healthy living. Company research focuses on adult stem cell science, telomere support, DNA repair, fat loss technology and nutrigenomics. Products are made in the USA and are exclusively formulated for Jeunesse. With a multilingual customer service, back office support team, global enrollment system and in-house programming already in place, the company is fully operational in 32 offices around the world. Its distribution channels extend to over 100 countries. Jeunesse and the Jeunesse logo are registered trademarks of Jeunesse Global, LLC in the U.S. and/or other countries. For more information, please visit: www.jeunesseglobal.com.
Follow Jeunesse on Facebook or Twitter
https://www.facebook.com/TheScienceOfYouthfulAging
https://twitter.com/jeunesseglobal
Related Links
https://www.jeunesseglobal.com
Source
Jeunesse