Vemma Gains New Top Leader In Dominican Republic
February 3, 2015
By Tina Williams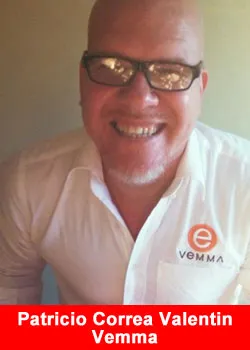 Dominican Republic native Patricio Correa Valentin knew what he had in his hands as soon as he discovered Vemma®.
"The product line is amazing," shares Patricio of the Dominican Republic. "We're offering a great variety of products that cover the three biggest health trends: energy, liquid nutrition and weight management."
After learning more about Vemma's commitment to expanding into Latin America and the vision of Vemma Founder and CEO BK Boreyko, Patricio was further convinced he had a home with company and joined just a few short months ago. He adds, "I love what the Vemma formula has and does with science and clinical studies as well as great branding and packaging."
Now, Patricio is taking the Vemma products and opportunity to his friends and family in Vemma's newest market, the Dominican Republic.
"We are hard-working people who are committed to achieving great results," Patricio explains. "With Vemma, we see how we can change people's economic situations for the better while providing great products."
He continues, "My goal is to become an Ambassador because that means I am helping lots of friends and family achieve their goals and dreams while leading healthier lives. I want to be an example to my team via my commitment, devotion and worth ethic, too.
Already well on his way, Patricio is well on his way, thanks to his belief in the products. "If you want to experience tremendous growth, drink the product, see the benefits and share it," Patricio advises. "There is no better way to show the results of the products. You can't promote what you are not using."
Patricio, who's been involved in the network marketing industry for five years, says his commitment to a company has never been stronger and he's extremely excited about his future with Vemma. "I am committed to helping Vemma achieve its goals and, more importantly, become an economic driver in Latin American markets beginning with the Dominican Republic," explains Patricio. "If I achieve this, it means I'm changing peoples' lives.
About Vemma
Founded in 2004 by BK Boreyko and his two sisters, Karen and Lauren, Vemma Nutrition Company has become known as one of the premier industry leaders specializing in premium liquid nutrition. Every month, thousands of new customers experience the positive difference of the clinically studied Vemma Formula.
The Vemma brands include the clinically studied Verve® healthy energy drink and Vemma Bod-e®, a transformational weight loss line. Vemma is headquartered in Tempe, Arizona, and distributes its products in 51 countries through global affiliate marketing. For more information, please visit Vemma.com.