Zija International Successfully Pre-Launches In South Korea
February 19, 2015
By Team Business For Home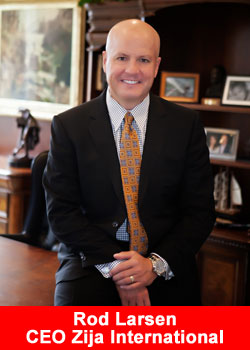 Zija International officially entered pre-launch mode in South Korea in December 2014. In just one month, they experienced multimillion-dollar success, which has been followed by additional seven-figure sales revenues.
The company decided to enter South Korea with one of their most popular products, the Moringa-based SuperMix nutritional supplement drink. The company has proved to quickly expand their product offering in other international markets, and has plans to do the same in South Korea.
Zija South Korea has quickly created several highly-Ranked leaders such as Diamond Elite Steven Lee and Black Diamonds Chang Kang and Dai Cho.
The following are messages from other South-Korean Distributors who have already quickly risen to high Ranks in the Zija Compensation Plan:
Byong Jae Lee – Diamond
Before I was introduced to Zija, I had been operating a modest academy and I was content with my life. Then I started to use Zija's Moringa-based products and found out how superior they were to other company's products. What finally moved me to get on board with Zija International was the path they provided to live Life Unlimited.
With Zija, I am now living a much more active and healthy life that I hadn't experienced before. I would like to thank all of my committed partners with whom I share a common goal of success.
With your passion, we were able to produce one Diamond and three Golds in a short amount of time. Through Zija, I have experienced many positive things that are new to me. I now have a new goal to share these positive experiences with many people.
Because of Zija, I was able to reach my goal alongside my partners, and this great opportunity is open to anyone!
Young Shin Park – Diamond
What can I say about life with Zija? Firstly, I would like attribute my success to God.
I had no prior knowledge about Moringa or Zija until I was introduced to the business through a friend. After watching the Miracle Tree documentary and what Zija International has done with Moringa, I decided to became a customer. Zija's Moringa products did wonders for my health and that is when I decided to help others with their health and financial goals.
There was no secret formula to my modest success. My belief and confidence in Zija's product was the key.
I have never given a presentation—merely guided potential partners to the meetings. Zija Korea has just sprung and I have just begun.
Along with my partners, we will reach Zija Nation where LIFE can be UNLIMITED; won't you join me?
Kyung Hwa Cho – Emerald
I would like to thank my Sponsor, Steve Lee; meeting him was a huge turning point in my life.
I began to learn about Zija's Moringa-based products about two years ago and fell in love with them immediately. This was first time in my life when I wanted to challenge myself to succeed. I made a 900 kilometer (559 mile) round-trip journey to Seoul, Korea, for weekly meetings. Traveling all the way from Busan did not deter me from the opportunity that Zija presented. Dreams, hope, passion, and Moringa was all I had and I felt excited knowing how happy I was going to be when the company launched in Korea.
Now that Zija Korea has opened my dreams have become elevated into hope! As a first-time network marketer, there were odd missteps and disappointments but "QUIT" is not in my vocabulary. Like a toddler learning to take one step at a time, I will have begun to master this business and know that I can succeed here. It's too premature to call it a success, as I have just begun my journey, but I know I am on my way. Thank you!
Duk Hang Lee – Emerald
Why I chose Zija International:
I was an ordinary salary man until last summer when the time to retire came. I was given a small retirement pension and an application for senior citizen's benefits. It was unbearable to think that I no longer had a vision in life and a goal to achieve besides living day to day as a retired senior citizen.
Then Zija International came along. It was as if I had discovered a new world. I saw a trustworthy and stable company with integrity, world-class products, a vision and philosophy from the Founder, Ken Brailsford, and a fair and lucrative compensation plan. These elements assured me that I could live Life Unlimited. I decided to become a leader and succeed once again.
I know I have just started a long journey with Zija. There may be challenges ahead, but the vision and hope I saw and continue to see will be the fuel for my wonderful partners and me. It is the vehicle that will lead us to live Life Unlimited!
Jae Yeon Shin – Emerald
Moringa oleifera is the total confidence booster! When I was introduced to Zija International over a year ago, I was truly impressed by the company's Moringa-based products and philosophy. I knew I had to get involved with the opportunities that Zija presented.
Realizing that Zija's products provide essential nutrition for our modern society gave me a total boost of confidence on the business side. This confidence I attained was a vital driving force for me and my numerous business partners. I would like to thank Zija International and my Sponsor for giving me this opportunity, my partners for their great teamwork, and Zija Korea for great support.
Byong Hwa Min – Emerald
First, I would like to thank Zija International for launching SuperMix here in Korea.
Zija International truly offers unlimited opportunities and an environment for those seeking an enhanced life. The reason I chose Zija International was that I believed we would be able to experience many positive things through Zija's Moringa-based products.
In a short time, Zija's business and nutrition opportunity have given me an enriched life and a boost of confidence. I am sure that people all over the globe will benefit from Zija's world-class products. With Zija, you are one step closer to your goals and achieving Life Unlimited!
About Zija International
Zija International, a privately held and privately funded business founded by Kenneth E. Brailsford and run by Rodney Larsen, develops natural health, wellness, nutrition and fitness products. The company operates in more than 50 countries worldwide.
Zija has seen consistent growth every year since it was founded over 9 years ago and was recently named the "Fastest-Growing Company in Utah" by Utah Business Magazine. It has also been recognized on fastest-growing and top-revenue lists by Inc. Magazine, Direct Selling News, and Utah Valley Magazine, to name a few.
With corporate offices located in Lehi and more than 4 million sq. ft. of state-of-the-art warehouse, shipping and manufacturing facilities located in Utah, United States, Zija International employs more than 200 individuals and has the capacity to grow to more than two billion dollars in annual sales.