Chris Gardner Partners With Zrii
March 19, 2015
By Team Business For Home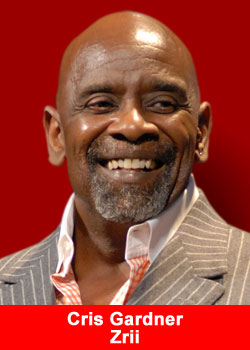 Chris Gardner Partners with Zrii to Create Next Generation Entrepreneurs
Zrii LLC has announced that author, entrepreneur and motivational speaker Chris Gardner has partnered with Zrii to mentor a new generation of entrepreneurs.
Mr. Gardner skyrocketed to international fame for his compelling autobiography, The Pursuit of Happyness, which his compelling, true rags-to-riches story and which became a worldwide blockbuster movie starring Will Smith.
Mr. Gardner has had a longstanding friendship with Zrii Founder and CEO Bill Farley, himself a self-made entrepreneur. Their friendship naturally evolved into a business relationship due to their mutual passion for helping people unlock their potential and experience personal and financial success.
This is the first time that Mr. Gardner has ever endorsed a network marketing company, a fact that Zrii CEO Bill Farley says validates the quality of the Zrii opportunity. He says,
"I have an extraordinary amount of admiration for Chris Gardner. He is living proof that if you have a dream, if you work extremely hard to make that dream come true, and if you never give up, then you can achieve remarkable success.

It's a message of hope. And it's a message that we embrace at Zrii. You see, we believe that success is not the result of luck or good fortune, but rather that success is something anyone can achieve by unlocking the leader within them."
At Zrii's official launch in Peru, Mr. Gardner caused a media frenzy when he arrived at the airport and again when he spoke to an enthusiastic crowd of over 5,000 people at The Jockey Club.
Mr. Gardner underscores how powerful it was to see Zrii igniting personal and professional growth for so many people. "Zrii is changing lives. It's empowering people to become something greater," he says. "Zrii gives you the opportunity to create the life you've always wanted. The key is being bold enough to pursue it."
About Zrii
Zrii was founded in 2008 with the goal of helping people learn how to live without limits. From life-changing opportunities for personal and financial success, to premium-quality wellness and personal care products that support an active lifestyle, Zrii is empowering people to make their dreams come true all over the world.
Zrii is proud to have partnered with the world-renowned Chopra Center for Wellbeing, headed by Dr. Deepak Chopra, and bestselling author Chris Gardner, to people across the United States, Canada, Australia, New Zealand, and Central and South America.