Damaging Blow: Avon Falls Off S&P 500 For First Time Since 1964
March 17, 2015
By Tina Williams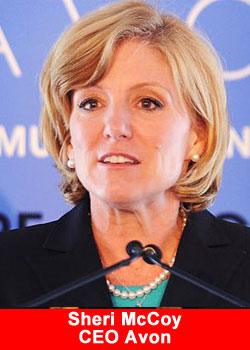 After a more than fifty-year stay in the index, Avon won't be in it for much longer.
S&P Dow Jones Indices, the company that manages the S&P 500, announced on Friday that the troubled cosmetics giant will be moved to its MidCap 400 index after the close of trading on March 20.
The S&P 500, which many average and professional investors use as their main benchmark to judge stock market performance, is home to mostly larger companies.
Avon (AVP) is now worth only $3.2 billion. It's being replaced by underwear and T-shirt makerHanesbrands (HBI), which has a market value of more than $13 billion.
In its statement, S&P Dow Jones Indices said the change was made because Avon was no longer big enough.
A spokesman for S&P Dow Jones Indices added that Avon has been in the S&P 500 since May 20, 1964.
But the writing has been on the wall for Avon for awhile. The company's sales have plunged for the past three years and it's been bleeding red lipstick, I mean ink, during that time as well.
I even wrote this about Avon earlier this month in a story about stocks that have missed the now 6-year old bull market.
Heck, with a market value now below $4 billion, you have to wonder if its days in the S&P 500 are numbered.
Avon had a chance to save its investors from these big losses back in 2012. But the company turned down a $10.7 billion takeover offer from rival Coty (COTY).
The company is just the latest brand-name icon to get booted from the S&P 500 as it stock price and market value have fallen. It joins a list that includes J.C. Penney (JCP), Sears (SHLD), The New York Times (NYT) and Eastman Kodak (KODK).
Wait till you get your hands on this stock. But Hanesbrands is the polar opposite of Avon. Times have never been better.
Sure, the company may be in a boring business fashion-wise, but the company's sales and profits have grown on a consistent basis for the past few years. The stock has routinely been hitting all-time highs.
It's all the more impressive when you consider that one of its top rivals — Fruit of the Loom — has the backing of Warren Buffett. The Oracle of Omaha's Berkshire Hathaway (BRKB) owns Fruit of the Loom.
Shares of Avon fell 5% Monday while Hanesbrands rose 3%.
Two other stocks — energy firms Nabors Industries (NBR) and Denbury Resources (DNR) — are also being removed from the S&P 500 with Avon. Those stocks each fell about 3%. The continued drop in oil prices didn't help.
Their replacements — data center owner Equinix (EQIX) and commercial real estate investment trustSL Green Realty (SLG) — both rose.
Reported by: CNN Money