doTERRA Donates $5M To Farm Up Jamaica's Manchester Project
March 5, 2015
By Nicole Dunkley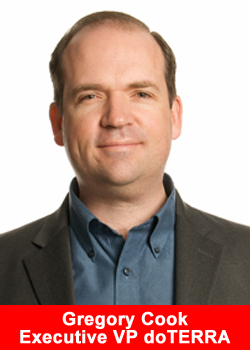 Three weeks ago, over 600 tourists participated in planting ten acres of ginger in the community of Haddo, in Westmoreland. The project was a partnership between Farm Up Jamaica, a non-profit organisation registered in New York and doTERRA, a Utah-based organisation.
doTERRA's Healing Hand Foundation has further donated J$5M to Farm Up Jamaica to enable improvements with an existing organic onion farm in New Forest, South Manchester.
"doTERRA's donation will go towards creating a solar powered drying facility in Manchester that will also accommodate students who will learn hands-on skills there", co-founder and executive vice president of doTERRA, Gregory Cook told The Jamaica Gleaner.
The facility will be used for processing and adding value to agricultural products, including drying capabilities. The building will be a 'green' project, so earth bags will be used to build the facility, and this is an inexpensive and efficient way to create the structure.
Crops like onion, thyme, ginger and peppers will be dried at this facility. Dormitory-type living quarters will be built on the second floor to house agricultural students who are in residence.
During peak harvesting season, the facility will be in operation 24 hours a day, and it will be made available to local farmers in exchange for a small user fee of 5% of their sales. The user fee will cover costs and keep the facility operational. All transactions will be documented and transparent to ensure fair prices for all concerned.
"I am naturally very excited about this new development as it will enable us to do a lot more," founder and chairman of Farm Up Jamaica Neil Curtis told the Gleaner. "We still have to raise an additional J$1M more to bring the project to completion, but we are well on the way", Curtis added.
Farm Up Jamaica's farming and food processing experts will become part of a support and training system to help local farmers transform their crops into badly needed revenue. Ultimately, these transformations and enhancements will move rural farming communities forward.
About doTERRA International
doTERRA is a world leader in the sourcing, testing, manufacturing, and distribution of CPTG Certified Pure Theraputic Grade essential oils through a global network of Independent Product Consultants. In addition to a premium line of single-plant extracts and proprietary essential oil blends, the company offers oil-infused personal care and spa products, dietary supplements, and healthy living products for the home.