Forbes Speaks With Amway's Steve Van Andel
March 22, 2015
By Tina Williams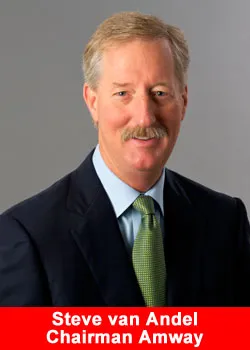 Dan Schawbel from Forbes: I spoke with Steve Van Andel, the chairman of Amway, who is responsible for managing daily operations of the company with Amway President Doug DeVos.
Van Andel is the eldest son of Amway Co-Founder Jay Van Andel, who, with Rich DeVos, started Amway in 1959 in Ada, Michigan. Since then, Amway has grown into the world's largest direct selling company. Over the past two decades, Van Andel has led a strategic transformation of the company with a focus on growth through innovation, driving double-digit growth. Prior to being named chairman, Van Andel served as vice president with responsibility for Amway's business operations in North and South America. He also served as vice president of marketing.
Recently, Amway acquired the XS Energy Brand, an energy drink brand that has exhibited positive momentum with the next-generation of Amway entrepreneurs. The deal expands the brand's geographic reach and advances Amway's strategy of connecting with young entrepreneurs. In addition, Amway launched the "2014 Amway Global Entrepreneurship Report", which was unveiled last November. In the following interview, Steve goes over the biggest findings from the report, why they acquired the XS Energy Brand, and how he grew Amway after taking over from his father.
Dan Schawbel: What was it like taking over Amway from your father and what strategic decisions did you make to grow it into largest direct selling company?
Steve Van Andel: I think that most people think of their fathers as heroes and I am the same way. In my eyes, he's probably one of the greatest entrepreneurs ever. To be able to take over the business that he founded was truly a great honor for me. He's the kind of man who saw opportunity just about everywhere. His purpose in life was to help other people and that's one of the reasons for starting Amway, a company that helps people help themselves. He was many things – everything from an entrepreneur to an adventurer.
His commitment and dedication was unbelievable. In fact, as I talk to you I'm reminded of a story that captures his approach toward life. I'm sitting in a conference room and at the end of the room is a ship's bell. One of his adventures began when he and his business partner, Rich DeVos, decided to take a sailing trip down to South America.
They didn't exactly know how to sail and they found that out off the coast of Cuba when the boat sank. It was an old wooden boat and when old wooden boats sink they don't quite go all the way down, they just submerge to the point where the top of the boat is about even with the surface of the water. So they ended up flagging down a freighter and tried pulling the boat out with all the equipment the freighter had, but just couldn't do it. But they couldn't just leave this boat sitting there, so they ultimately had to ram it (so it would totally sink).
Before they did, they took a few things off and one of the things my Dad removed was the ship's bell. What's interesting is that didn't end their trip. You would think they would've come home, but that wasn't their approach to life. They jumped aboard the freighter as crew, made the trip down to South America and traveled around the country. They kept their adventure going even though they had a lot of hurdles along the way and that ship's bell is there to remind me of the commitment and dedication that Dad had. When he set a goal, he just kept trying and kept going, and that's been my mantra, if you will, since I've been here.
As far as strategic decisions, the biggest shift that we've had over the last couple decades involves significant global expansion. Prior to that, we were in a few markets but it was primarily a U.S.-driven business. Now, even as the U.S. business continues to be strong, 90% of our business comes from outside of the U.S. Things have become more complicated over the years, but the goal still is trying to help people go into business for themselves.
Schawbel: Between 2013 and 2014 what were the biggest differences in your results from the global entrepreneurship report?
Van Andel: We've done studies now over the past number of years looking at people's attitudes towards entrepreneurship in general and thoughts on owning businesses of their own. In 2014, we talked with people in 38 countries totaling more than 40,000 interviews – so it truly is a global study. Across those nations, 75% of all people have a positive attitude towards entrepreneurship and the millennial generation is even more positive, with 80% of people responding favorably. So, we see that we're positioned in a great place in terms of what people are seeking and what they see as positive.
Schawbel: You've said on reports that entrepreneurship can be taught. Can you explain how professionals of all ages can educate themselves on entrepreneurship?
Van Andel: The reasons why someone wants to be an entrepreneur are pretty consistent – setting your own goals, being your own boss and overall flexibility. But, a lot of times, people look at business ownership and say 'I don't know where to start. I'm not sure exactly where to go.' Things as simple as basic business skills, leadership and management skills are subjects that people are looking for some foundational education in before taking that first step toward business ownership.
These foundational learnings, combined with learning more about what it means to be an entrepreneur or, rather, what the practice of being an entrepreneur is, are all areas of need in the eyes of the public. The positive thing is that much of that training is now available through many avenues, including online. Take Amway for example, we provided over 3 million learning sessions last year via our online platform and offered business owners the chance to learn basic business skills, learn aspects of management, and learn a little bit about what it means to be an entrepreneur.
Schawbel: You have recently acquired the XS energy drink brand. Why did you decide to acquire it, what opportunities will it create for you in the marketplace and what went into the decision?
Van Andel: We've been selling XS for a number of years now. It was successful even beyond our initial expectation so, for us, it was a very simple decision. Our analysis was straight forward – we've got a great product and we've been selling it for a while, it seems to work in our marketplace, and we really want to expand it around the world. We were already in a few markets, but we'd like to go a little faster and, for us, the best way to do that is to acquire it. The other thing that's great about XS is that it's truly a lifestyle brand. I think that's somewhat new to us and something that our entrepreneurs really like and gravitate toward.