ForeverGreen Reports 229% Increase In 2014 Revenues To $58.3 Million
March 25, 2015
By Nicole Dunkley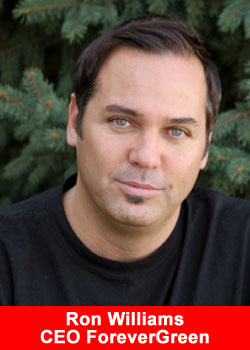 ForeverGreen Worldwide Corporation (FVRG), a leading direct marketing company and provider of health-centered products, announced today financial results for the quarter and twelve month period ended December 31, 2014.
Fourth Quarter Financial Highlights
Total revenues increased 184% to $17,796,937, compared to $6,261,517 in the fourth quarter last year.

Gross Profit for the quarter was increased to $14.2 million and Gross Profit Margins increased to 79.6%.

Operating income was $685,341 compared to $83,284 during the quarter in 2014, a 713% increase.

Net income increased to $189,460, or $0.01 EPS, versus $5,788, or $0.00 EPS, in Q42013. The company had a one-time charge of $149,520 for the loss on settlement of claim. Excluding this item, net income was $338,980, or $0.02 per basic and diluted share.

Cash position, including restricted cash increased $291,544 during the quarter to $1,169,971.
Full Year Financial Highlights
Total revenues increased 229% to $58,341,422, up from $17,757,388 last year.

Gross Profit was $45,871,378 compared to $13,008,090 during 2013. This was an increase of 253%.

Gross Profit Margins increased to 78.6% for the year compared to 73.3% during 2013.

Operating income increased to $1,681,966 up from $382,829 during 2013, a 339% increase.

Net income increased 780% to $1,028,712, or $0.05 per basic and diluted share in 2014 compared to $116,843, or $0.01 EPS last year. Without the one-time settlement loss the company earned $1,178,232 or $0.06 per basic share for 2014.

Total assets increased to $7,709,633 at the end of 2014 compared to $2,699,519 on 12/31/13.

Total cash including restricted cash increased to $1,169,971 up from $284,741 at the end of 2013.

Total liabilities increased to $8,086,341 compared to $6,301,037 at the end of 2013.

Interest expense decreased to $317,966 versus $473,385 for 2013.

Net cash provided by operating activities increased to $1,432,110, or $0.07 per basic share, compared to $127,275, or $0.01 EPS, during 2013.
"We experienced strong sales growth around the world this year. Gross profits increased due to increasing revenues and reducing our two largest sales expenses, product costs and shipping, as we were able to optimize pricing with our key vendors and raw material suppliers.
Product costs also decreased because of the product mix and lower shipping costs of our high volume products. Our total tangible assets increased over $5 million to $7.7 million and was primarily due to an increase in inventory, purchase of fixed assets and a substantial increase in cash and cash equivalents and restricted cash.
We continue to reduce our debt and currently only have short term notes payable of $1,499,234 with no long term debt. We had certain non-recurring expenses in 2014 due to settlements of claims, retirement of debt and key management hires.
Our operating and net margins will continue to escalate as our fixed costs stabilize and gross margins continue to improve. We continue to anticipate 50%+ sales growth during 2015 and 2016," remarked Jack Eldridge, CFO.
"Since the pre-launch of FGXpress and the envelope model of PowerStrips, SolarStrips and BeautyStrips, the company has continued to exceed its growth goals and forecasts. We have introduced our own house logistic, tracking, sales and member software that will continue to improve our efficiency moving forward. New products will continue to be introduced to bolster sales and management is consistently making improvements to the marketing plan to enhance the success the company is experiencing. We look forward to developing into one of the largest and most respected companies in our industry," stated Ron Williams, CEO.
About ForeverGreen Worldwide
ForeverGreen Worldwide Corporation develops, manufactures and distributes an expansive line of all natural whole foods and products to North America, Australia, Europe, Asia and South America, including their new global offerings, PowerStrips, SolarStrips and BeautyStrips.
They also offer Azul and FrequenSea, whole-food beverages with industry exclusive marine phytoplankton, the Versativa line of hemp-based whole-food products, immune support and weight management products, Pulse-8 powdered L-arginine formula, TRUessence Essential Oils and Apothecary, 24Karat Chocolate and an entire catalog of meals, snacks, household cleaners and personal care products.