Herbalife Cuts Pay Of CEO By 36%
March 1, 2015
By Tina Williams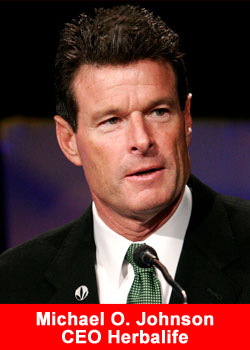 Herbalife Ltd (HLF.N) cut the pay of Chief Executive Michael Johnson 36 percent for 2014 after the nutrition and weight loss company failed to meet performance goals set for him and other top executives, according to a securities filing on Friday.
Herbalife said Johnson, who is also chairman, received total compensation of $6.73 million last year, down from $10.5 million in 2013, mainly because he did not receive the incentive plan compensation of $3.7 million he got the prior year.
Herbalife has been closely watched since activist investor William Ackman accused the company of running a pyramid scheme in 2012, while rival investor Carl Icahn became the company's biggest owner in 2013. Herbalife, being investigated by state and federal regulators, has denied Ackman's charges.
Explaining its decision to not pay out incentive awards to Johnson and other top executives, Herbalife said target amounts for the applicable performance goals were not met, such as levels it set for earnings per share and sales growth in 2014.
Shares in Herbalife fell 11 percent on Friday after the company cut its earnings guidance for 2015 to reflect the stronger dollar.