Herbalife Unveils Massive Public Relations Blitz In Response To Critics
March 30, 2015
By Tina Williams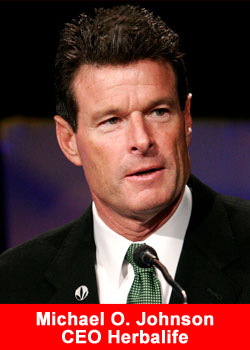 LA Times reports: Amid relentless attacks on its business model, Los Angeles nutritional products company Herbalife Ltd. is firing back at its critics with its first Southern California television advertisements in more than a decade.
With a big rally in downtown Los Angeles, the company kicked off a massive public relations campaign that portrays its products as effective in helping users lose weight and stay fit.
Herbalife has traditionally shied away from expensive television advertising, instead relying on its independent salespeople to spread the word about its weight-loss and nutrition products through personal contacts. It also promotes the company through a variety of sponsorships, including the Los Angeles Galaxy soccer team.
But the company decided to change its strategy as activist investor Bill Ackman continued his two-year, high-profile attack on the company's business practices.
Ackman has contended that Herbalife operates a pyramid scheme that victimizes its predominantly poor and minority independent salespeople. He said he shorted Herbalife's stock by more than $1 billion, betting that its value would fall when regulators took action.
The company has denied those allegations, and it's now taking the offensive with a marketing campaign that will air on cable and network television, radio and the Internet and in newspapers.
The television ads were scheduled to begin airing in Los Angeles and Miami on Wednesday, the same day that hundreds of Herbalife distributors rallied in downtown Los Angeles in support of the company.
This is all part of a larger effort on our part to make sure people know what we're about and what we mean to the community, said Alan Hoffman, executive vice president of global corporate affairs for Herbalife.
The ads feature lean, smiling people who say they lost weight and transformed their lives using Herbalife products. The company's top-selling product is Formula 1, a powder used to make meal-replacement shakes.
Ackman did not respond to a request for comment. His criticism prompted the Federal Trade Commission last year to open an investigation, which is ongoing.
Herbalife's stock has endured wild swings since Ackman's attack began, falling more than 50% last year after gaining value in 2013. The stock gained 14 cents, or 0.3%, to $41.39 in Wednesday trading.
At the company rally at Grand Park in downtown L.A., many Herbalife distributors wore green shirts that read, I am Herbalife, and carried signs supporting the company.
Among them were Mark and Jill Addy, a Playa Vista couple who said they have been selling — and using — Herbalife products for about 10 years. They said they welcomed the company's new marketing push.
Any time we can hear from people who have results on the products, that's a good thing, Mark Addy said. I love having the general public see what I see on a weekly basis.
Marketing experts said the campaign sounds effective and overdue.
Tim Calkins, a Northwestern University marketing professor and author of Defending Your Brand, How Smart Companies Use Defensive Strategy to Deal with Competitive Attacks, said Herbalife's strategy makes sense.
There's no question that perceptions of Herbalife have been shaped by all of the attacks from Ackman and others; over time, that really has an impact on the brand, Calkins said. Herbalife has to be aggressive about putting forth a different story about the company. It's surprising it has taken this long to put forward a campaign.
Hoffman declined to say how much money the company is spending on the new marketing blitz.
It probably will be money well spent, said Ball State University advertising professor Dominic Caristi. The effect of a television ad campaign would be to reinforce to all these groups — Wall Street investors, the distributors, the potential buyers — that this is viable company.