Immunotec Sales 11% Up To $17.9 Million in Q1
March 23, 2015
By Tina Williams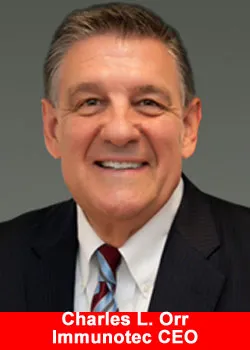 Immunotec Inc. (IMM), a direct-to-consumer company and a leader in the nutritional industry (the Company or Immunotec), today announced its consolidated financial results for the first quarter of Fiscal 2015.
All amounts in this press release are denominated in Canadian dollars unless otherwise indicated.
We are pleased to report an 11% increase in revenues over the first quarter of the previous year, said Mr. Charles L. Orr, Chief Executive Officer.
Also, Operating Income, EBITDA and Net Income all increased by 69%, 47% and 12% respectively, over the same period in the prior year.
Our employees and consultants demonstrated exemplary teamwork to work through challenges in the opening months of the fiscal year concluded Mr. Orr.
Performance Highlights
Revenues for the three-month period ending January 31, 2015 reached $17.9M compared to $16.2M in the same period the previous year, an increase of $1.7M or 10.9%. This growth was generated by increased sales in both Mexico and the United States, consistent with prior quarterly reporting.