Irena Oliver – FM Group Top Earner Interview
March 14, 2015
By Team Business For Home
Irena Oliver was born in Lithuania, moved to the UK with little or nothing, barely able to speak English and working in a coffee shop to make ends meet.
She is the top earner in FM GROUP and the first Jasper Star Level Achiever of the NEW III Marketing Plan recently introduced by FM GROUP earning her Euro 60,000 (USA $80,000) on that level as commission.
She is married to Ted Oliver and has a 18 years old son, Mindaugas.
Irena Oliver started with FM GROUP in May 2006. From the very beginning she believed in the company's potential and thanks to great determination, already seven months later she achieved the Golden Orchid effectiveness level.
Within the following two and a half years she reached the Diamond Orchid level which she has maintained until today. Irena manages an international structure of over 25,000 people. She operates mainly on the British, Lithuanian, Russian and Ukrainian markets.
FM GROUP Poland was established in 2004 in Wroclaw, Poland by Artur Trawinski. In 2007 a new company FM GROUP World was founded to expand the brand abroad.
Today FM GROUP products are known and appreciated in nearly 40 countries. Over 600,000 Business Partners cooperate with FM GROUP.
Irena is married and lives in London.
Irena Oliver, First Star Jasper in FM World Personal Interview – Courtesy of FM UK
Irena, how did you got involved into the Direct Selling Industry?
My good friend Birute introduced me to network marketing industry in 2002 with health and nutrition products and that's when I fell in love with this type of business.
Because I care and like to help people this was the right model for me. My journey with FM Group began in May 2006 when I joined FM Cosmetics UK, and within two and a half years I reached the Diamond Orchid level.
I am Lithuanian and when I first started I could not even speak any English. Because perfumes smell for all nationalities it was easy for me to introduce the products and business to others as the main FM Group product is Perfume. Thanks to this business opportunity I have learnt English and even Polish.
What was your opinion about Direct Selling / MLM before you got involved?
I was trying to avoid people who come knocking on the doors, because in the same way I have bought bad quality products before.
What is your WHY?
The first thing that attracted me was the better quality of products and helping other people to benefit from good quality products. However, the main thing that drives me is that I want better quality life for myself, my family and all the people that surround me. I hate succeeding on my own and I always find it much more interesting when other people succeed with me and we can share the joys of accomplishment together.
What is the secret to your success?
Simplicity, Excitement and Speed. If I am interested in something I do it right away. I never think if I will do it, I decide that it is done and then figure out how to do it. I always do it fast as it is much more interesting and not so boring as doing it slowly.
Why the FM Group, what makes them special?
Because with this company I can help the biggest amount of people, everybody uses perfume, cosmetics and home cleaning products which means that our consultants have the biggest chance of earning money. Most mlm companies have the products of better quality than what somebody would buy in the shop, however, most of these mlm companies charge the customers extra for that quality.
Our company is one of the very few who have achieved a better quality products than the shops sell, however, our products are on average 70% less expensive than the shops. Therefore, one of the biggest challenges in our business is actually explaining and educating our customers why FM Group products are so inexpensive.
Who are your mentors, is personal development imporant for you and your team?
The most inspiring people and people from whom I have leant the most in my business career were Inga Krukauskiene, Ata Mamedov, Randy Gage, Eric Worrie, Tom 'Big Al' Shreiter, Antony Robbins and Christopher Howard. I definitely think that personal development is important, it is one of the main aspects of network marketing that I like. I believe that personal development is the best investment somebody could make.
I always try to learn as much as I can and attend events of various calibre, from small local meetings to massive events like Anthony Robbins Unleash the power within. Even before I was fluent in English I started to attend these events to absorb the knowledge, emotions and the power of momentum. Also, I always try to take my team members to as many trainings so that not only I but the whole team would be developing together with me.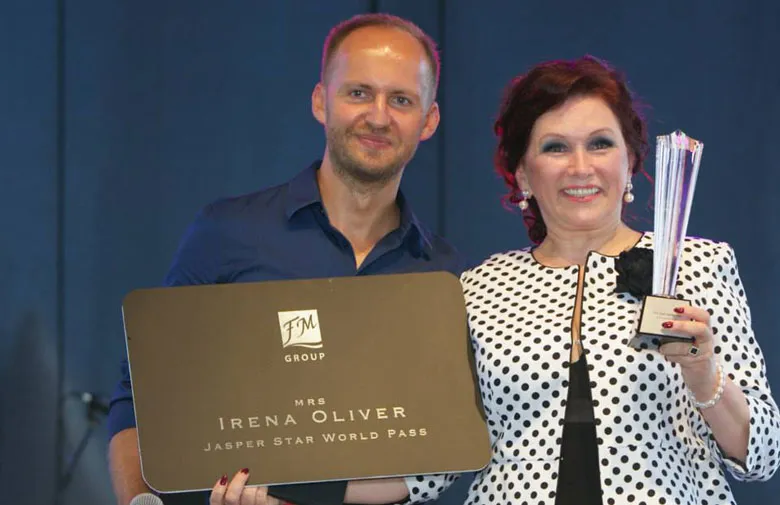 Are you babysitting your team members?
Somehow yes, because in our company it is very easy to join and some people who don't even know how to use internet can join our company. I realise that distributors are like children, sometimes just telling them how to do something is not enough, sometimes we need to show them how it's done again and again.
New team member is like a newborn, before they start walking by themselves it takes a lot of effort.
How do you build leaders and get the duplication in?
By showing my own example, it does not matter what we say – it matter what we do. People will always copy what they see their leaders do so we lead by example.
Network marketing is not an army, I am very flexible and adapt to different styles of communication and different personalities, as some people will do it fast and others will do it slow.
What advice would you give to someone entering network marketing?
Start from where you feel comfortable and then try to learn new things. Use your natural abilities so if you are good at face to face then do it, if you are good with computers then use it. Network marketing is nothing more than recommending things that you like – which all of us have been doing all our lives anyway, only now you get paid for it in this business.
All you need to do is keep it simple, be passionate about what you do and if you can put some momentum in it by taking massive action instead of doing it slowly. And never give up!