Panvoya Pre-Launches A Travel MLM
March 27, 2015
By Team Business For Home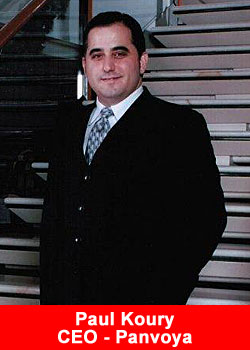 PANVOYA, has officially begun its Confidential Leadership Launch in the USA, which includes the debut of a new booking engine that delivers discounts of up to 60% off best online prices.
PANVOYA's founder, Paul Koury, has over 27 years of experience in the travel industry, having started his own travel agency at the age of 16.
His passion for travel and unrelenting entrepreneurial spirit are the driving forces behind his retail and direct sales travel companies. His extensive experience in the travel industry has led to the creation of one the most compelling lineup of travel products available in our industry today.
Paul Koury: For me, it's really simple… all our product and service offerings are based on the same common denominator… they are all designed to deliver real VALUE to our customers, while presenting our Affiliated Travel Promoters with unprecedented earnings potential!"
During its Confidential leadership Launch of A Smarter Way To Travel, PANVOYA is distributing free $100 Travel Savings Accounts to all its Affiliates, which they can immediately use to start saving money when they travel. Jon Gillardi is named as master distributor.
Affiliates can leverage an unlimited number of Free $100 Travel Savings Accounts in their efforts to build large sales teams before the release of the Travel Savings Engine to the general public.
The official release of this game-changing concept represents a fundamental shift in the Travel Direct Sales model by enabling Affiliates to monetize the distribution of a free product that actually delivers exceptional value to consumers, whether they are Affiliates or not. PANVOYA is proud of its product offerings and is 100 percent committed to the continued growth of the Travel and Direct Sales industries.