Talk Fusion Introduces New Face-To-Face Customer Service Experience
March 4, 2015
By Nicole Dunkley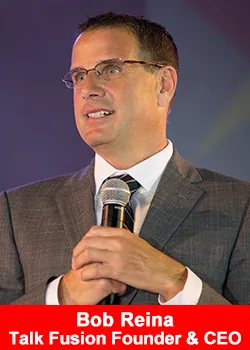 Talk Fusion has recently started using its own CONNECT products to raise its esteemed customer service standards even higher. Associates and Customers can now schedule face-to-face product training sessions with members of the corporate Support Team via CONNECT Live Meetings.
Live Meetings is a freshly enhanced live broadcasting platform that allows users to create, schedule, and give presentations more dynamically. Amongst Live Meetings' long list of new age features is desktop share, through which Support Specialists give Associates and Customers real-time demonstrations of Video Email, Video Newsletter, Live Meetings, and more.
"They can follow along and see exactly what I'm doing click for click, which is great," said IT Help Desk Technician Javaun McFarlane. "This allows me to answer questions and offer solutions faster than ever.
"By using our own product," he added, "we're offering a more personal experience from the second the broadcast begins. I did two trainings today; watching their faces light up when they saw me on camera was priceless. Nothing beats face-to-face interaction."
Since CONNECT products are developed entirely in-house, Talk Fusion Support Specialists are deeply involved in the creative process and are, therefore, well versed in the high-tech features. This allows them to easily help and educate beginners, tech-savvy pros, or anyone in between.
Talk Fusion Support has a long withstanding reputation as one of the most efficient customer service departments in the industry. They've received rave reviews for answering phone calls in two rings or less and consistently offering valuable product expertise.
"I'm just in LOVE with the customer service at Talk Fusion," said Associate Anna Heflin. "My e-mail was answered in 2 minutes flat today. My phone calls, answered on the first ring. Talk about instant customer service! It's incredible, and on top of that, you pay me instantly. A dream come true!"
This new product training initiative is not just another example of Talk Fusion's premier service; it is expected to influence the company as a whole.
"This is where the rubber meets the road," said IT Help Desk Technician Don Yoshihara. "These one-on-one appointments will make our Customers and Associates even more comfortable and confident while using and sharing CONNECT with others."
Associate Tom Wiegand agrees. "I want to become as proficient as I possibly can using every Talk Fusion product, and having live training from Support is a major plus," he said. "My session today was both terrific and educational. This company offers a worldwide learning environment where Associates and Customers can continuously improve their communications. I am very appreciative!"
ABOUT TALK FUSION
A trend-setting industry leader, Talk Fusion connects people around the world through cutting-edge video technology for social and business communication. Talk Fusion's innovative video products are marketed person-to-person by independent Associates in more than 140 countries, empowering them to earn the financial freedom to live their dreams.
Founded in 2007 by CEO Bob Reina, Talk Fusion introduced the world's first Instant Pay Compensation Plan. Talk Fusion adheres to the highest ethical business practices and is a member of the prestigious Direct Selling Association (DSA). Reina firmly believes that "with great success comes greater responsibility."
Talk Fusion fosters a strong commitment to giving back to friends, family, communities, and animal charities across the world to produce a positive global change. Learn more at www.TalkFusion.com and "Like" Talk Fusion at www.facebook.com/TalkFusion.
Income Disclaimer:
Any earnings portrayed in any Talk Fusion marketing materials are not necessarily representative of the income, if any, that a Talk Fusion Associate can or will earn through his or her participation in the Talk Fusion Instant Pay Compensation Plan. All references to income, implied or stated, throughout the Talk Fusion Instant Pay Compensation Plan are for illustrative purposes only. These figures should not be considered as guarantees or projections of your actual earnings or profits. Talk Fusion does NOT guarantee any level of income or earnings to any Associate; any representation or guarantee of earnings would be misleading. The purchase of a Talk Fusion Product Package is completely optional and is not required for an Associate to participate in the Talk Fusion Instant Pay Compensation Plan.