Tupperware CEO: We Have No Interest In Acquisitions
March 1, 2015
By Tina Williams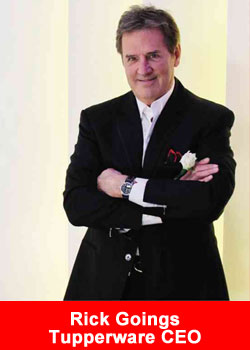 Reported by Bazinga: While several companies that declared quarterly earnings recently have put the blame on currency headwinds for lackluster results, Tupperware Brands Corporation CEO Rick Goings doesn't agree with them.
Goings was on Bloomberg Thursday to discuss how a stronger dollar affects his company and if Tupperware has plans for any acquisitions.
Currency Headwinds
When asked if currency headwinds posed a major issue for Tupperware, Goings responded, "Well, it is in translation, but in our core business , it's really not."
He continued, "We have multi-local businesses out there and we try to run our businesses in local currency, and when you feel that, is when you bring it back home."
Portfolio To Include Global Brands?
"No, we have no interest in acquisitions," Goings replied.
"We have enough to do with our core business. When I say enough to do, enough opportunity to run way ahead with regard to in the emerging markets, emerging middle class.
"And we will add a billion and a half to the middle class and most of them are going to be women, millennials. Very interesting fact: about 60 percent of the millennials don't want to have a job; they want to be an entrepreneur."
Global Salesforce Calls In
When asked what all he is hearing from the global salesforce, Going replied, "I would go back to Davos this year. almost every time I went to Davos, I could feel a theme that herein we are deeply engaged in gender parity issues.
"This year it was just kind of an angst out there, and what came out was that Oxfam report that 1 percent of the population has 50 percent of the wealth. I hear in markets, people who are entrepreneurs, they want to change that. They want to do something to move themselves up."