Visalus' 1-Star Ambassador Tina D. Lewis Goes From Med School To Entrepreneur
March 2, 2015
By Tina Williams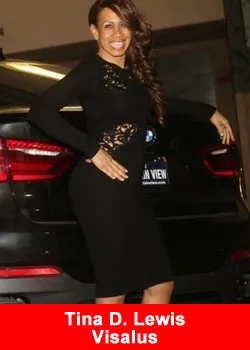 Vi 1-Star Ambassador Tina D. Lewis comes from an extensive health and wellness background. Having graduated from the University of Southern California's (USC) Keck School of Medicine Physician Assistant Program early on, ViSalus was a natural fit when it came to impacting lives.
Tina originally crossed paths with Vi Co-Founder and Global Ambassador Nick Sarnicola at a personal development conference in 2011. She realized she could extend her healing reach by Challenging her community.
Last year she made the decision to go 'all in' and join forces with Nick.
"I saw in ViSalus exemplary leadership, a proven track record of success, an inspiring mission and forward thinking. I knew the opportunity would allow me to create a legacy and generate wealth for my family," says Tina.
Her 'Why'
Years ago Tina worked at a weight-loss clinic as a program consultant. She worked one to one with patients, but had to turn many away due to the high program cost.
"I saw what obesity was doing to people—it was taking away their quality of life. I had to make some changes. I felt called to help people at a greater capacity."
She is also currently working toward a personal training certificate with the National Association of Sports Medicine to add to her arsenal of credentials.
"I believe the certification will allow me to establish greater credibility, speak with authority and mentor my Promoters and the Vi Community in a special way that will lead them to rise the ranks," says Tina.
Leadership
"I started my team from scratch," says Tina, whose downline now consists of a tight-knit group of individuals dedicated to Life, Health and Prosperity.
Team members range from stay-at-home moms and physicians to health and fitness professionals and engineers. The common denominator among these Promoters: people first, profit second and no one gets left behind. Tina says relationship building is essential in this business—it's what attracts and keeps people committed to The Challenge. She promotes constant communication among Promoters and those in her Challenge Groups.
"I get on the phone every day," she says. "I use social media including Facebook groups to organize and communicate with people because people are at the center of what I do. Without my Promoters and customers, I wouldn't be where I am today; I wouldn't have the kind of strong team and success I have today."
She leads by example with her strong work ethic, drive and consistency.
Future Plans
The goal she keeps close to her heart? To be one of the top female income earners in the industry. Her regular Leadership Influence Development (LID) calls developed by leadership expert John C. Maxwell and hosted by Nick, keep her grounded and on target. Her future plans look similar to when she started out, achieving Ambassador rank in just 45 days.
"As a top leader in the company, I will continue to work with influencers and community leaders and put more people in cars than the BMW dealership. I will work to get my team members to their desired ranks while helping thousands of people lose weight, look great and kick obesity to the curb," says Tina.
Tina, like many who have walked before her, has set her sights high and will undoubtedly continue to rise in rank. We'll be waiting in the wings for her to cross the stage again and again.