WorldVentures Welcomes Dan Stammen As New CEO
March 5, 2015
By Nicole Dunkley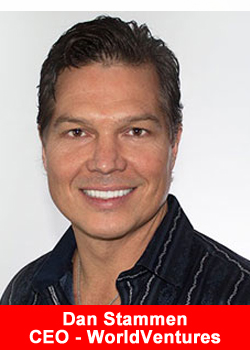 WorldVentures' first Chief Executive Officer Dan Stammen has agreed to transition into the position of WorldVentures Holdings new CEO.
Dan is recognised as a monumental icon in the direct sales industry. He has built a reputation for creating high-profile corporate sponsorships, and lifting the WorldVentures image in the public spotlight.
Dan was WorldVentures CEO for the first three years, and recently held the position of Field Liaison, Special Projects and Board Member. Almost 10 years later, the Executive Team has come full circle.
WorldVentures Co-founder Mike Azcue is transitioning from his daily responsibilities as CEO to focus on the Board level, as partner and Co-owner of the company alongside Co-owner and Chief Visionary Officer Wayne Nugent.
For almost 10 years, Mike has partnered with Wayne to fulfill the vision of WorldVentures, build a globally recognised brand and change people's lives through unforgettable opportunities.
Mike will continue his partnership with WorldVentures as Co-founder, and Dan will step into the day-to-day business to assist in building WorldVentures' future as the company moves into another year of record growth.
About WorldVentures:
WorldVentures is the leading international direct seller of vacation club memberships. WorldVentures is on a mission to help people achieve more fun, freedom and fulfillment in their lives, and to provide its members with premium vacations at reduced prices.
WorldVentures combines the power of the Internet with the strength of the direct-selling industry to market its DreamTrips Memberships. WorldVentures is a privately held company based in Plano, Texas, with active Representatives and members in 28+ markets.