Avon Looking To Sell North American Business
April 15, 2015
By Tina Williams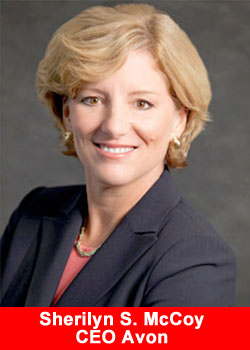 Avon Products has postponed its analyst day, and reports say the company is exploring strategic alternatives. Yahoo Finance has reported that Avon is looking to sell its North American business. This comes after a long downhill slope in sales and business and a difficult 2014 news wise after leaving the DSA.
Wall Street Journal also reports:
Avon Products Inc. is exploring options including a sale of the company or its struggling North American business, people familiar with the matter said, an acknowledgment that its problems are more than skin deep.
The door-to-door beauty company, with $8.9 billion in annual sales and more than a century of history, has tried without success for years to repair weak financial results and stem an exodus from its ranks of sales representatives.
Chief Executive Sherilyn McCoy was to outline her latest plans for a turnaround at a long-scheduled investor presentation next month. But this week, the company made a surprise decision to postpone it until this fall after concluding that further-reaching changes are needed, the people familiar with the matter said.
Avon doesn't have a deal on the table to sell itself or to hive off its North American operations, and one isn't imminent, the people said. But they said the company is open to all options as it tries to plot its best path forward.
Avon's shares jumped more than 14% on the news, which was first reported by The Wall Street Journal. They closed the day at $9.15. Before the gains, the company's shares had lost almost half their value in the past year.
The company got its start in 1886 recruiting women into the workforce as door-to-door sellers of perfume and expanded quickly. It now has six million active representatives and is present in 60 countries or territories around the world. For much of the past decade, however, it has been mired in problems ranging from an expensive bribery probe centered on China to disastrous computer system upgrades in Brazil and Canada.
Avon recruited Ms. McCoy three years ago from Johnson & Johnsonto shape things up. She overhauled the company's top management and settled the time-consuming bribery probe. But she has had little luck ending a streak of uneven financial results and returning the company to growth.
The beauty company's North America business, with $1.2 billion in annual sales, is a particular blight. The division's sales have fallen steadily over the past seven years, including a 17% drop in 2014, and are just half their level of 2007. Losses have piled up as well, with $72.5 million in red ink last year.
The U.S. business is anchored by a door-to-door sales force that has shrunk for the past 19 quarters, according to data compiled by Deutsche Bank analyst William Schmitz. Last year, the North American sales force fell by 18%.
As a result, Avon's market share has slipped behind other direct-selling companies including Mary Kay Inc., Amway Corp. and Herbalife Ltd. Avon last year held just 4.3% of U.S. market share, down from 10.2% in 2007, when it held the No. 1 position, according to market data firm Euromonitor International. Avon lost its top position to Mary Kay in 2013, according to Euromonitor.
Even so, Avon's brands retain a lot of value and loyalty and could in theory be more profitable in the hands of a retailer or another company with a more robust distribution system.