FourOceans Launches In The USA
April 7, 2015
By Team Business For Home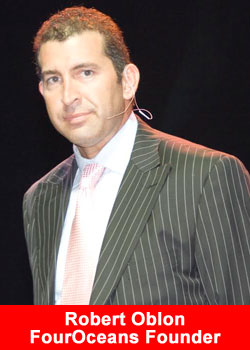 FourOceans Global, LLC, announced today that the company is officially open. Headquartered in Plano, Texas, Four Oceans is the leading lifestyle and professional development learning and experiential social selling company focused on a positive, meaningful life defined and attained through sustained happiness.
Founded by industry veteran Robert Oblon who has put together a world-class executive team, Four Oceans looks to elevate global happiness beginning with its 2014 acquisition of The Success Training Network (formally called TSTN) plus many thought leaders in the field of happiness headlined by Shawn Achor, the world's most recognized Positive Psychologist, Four Oceans is poised to revolutionize the direct selling and self-improvement industries.
When I was introduced to the concept that the formula for happiness was backwards, I knew that we could elevate an entire industry with what Shawn Achor is proving in neuroscience and positive psychology, said Oblon. Four Oceans embodies the science of what happiness researchers have found ~ that sustained happiness is not realized through the attainment of money, things or accomplishments. Rather, sustained happiness comes from the relationships we have, a sense of belonging, physical activity, experience and learning, and giving.
And bringing these elements to our members are the drivers behind Four Oceans. After co-creating WorldVentures, one of the world's largest direct selling companies in travel, Oblon has helped numerous companies with marketing, video production, web-development and technologies before deciding to launch Four Oceans as a hybrid company that can help everyone in direct selling, even while they're in other direct selling companies.
The business of Four Oceans is to deliver a compelling product, a superior customer experience, an enriching business process to recruit and retain Partners, and to be a hassle-free workplace of choice, said James Menge, startup and travel industry veteran and Four Oceans CEO. With senior leadership roles at American Airlines, Virtuoso, Silverrail and SilverCar, Menge brings a robust business background that will take Four Oceans from launch through a long-term growth mode. Added Menge, Industry relationships that include the Direct Selling Association (DSA), controls and governance that ensure company compliance, and overseeing business operations are objectives in maintaining stability for our Partners and customers.
Jeff Cohen, another direct sales industry veteran, has been named the President of Four Oceans, and was recognized for his work and selected to ExecuRank's TOP CMO #35 of 2012 while at MONAVIE. Most of us wish we could learn how to make ourselves better, smarter, successful people. The pressures of daily living, maintaining balance in our personal and professional lives, keeping up with friends and family, a demanding schedule, the work environment, insufficient family and personal time, limited rest and relaxation, and the changing environment all contribute to a life that is frustrating, unfulfilled, out of balance, and a disturbance of our natural happiness, said Cohen. Now we have a unique opportunity to gain personal and professional improvement with Four Oceans, he added. Cohen's vast experience in direct selling formally helped grow the $1Billion direct selling company MONAVIE and has spent a career creating consumer products and media and has been recognized with Reggie, BPME, BPA, Telly and Addy Awards.
Our mission has always been focused on widening access to learning for everyone, says Dave Neill, Four Oceans Chief Marketing Officer. We are fortunate to be able to bring the worlds leading thought and success trainers together into a single learning and social portal. Our members have a real need for greater convenience, flexibility and access to learning opportunities, whether to get ahead at work or simply to keep their minds engaged. With our proprietary self-development on-demand model, Four Oceans is the conduit, connecting people to new ideas with like-minded people from around the world with leading experts.
Four Oceans plans to establish itself as a leader in lifestyle and professional development. The company will provide members an alternative to the variety of stores and online outlets that sell self-help books, tapes and CD's through the company's virtual Happiness curriculum membership.
HAPPINESS CURRICULUM
Four Oceans' unique subscription-based membership offers curated curriculum from world leading experts that support the founding principles of sustained Happiness for all with core values for individuals, families, community at home and in business.
Happiness is not the belief that we don't need to change; it's the realization that we can, says Shawn Achor, Four Oceans featured trainer and author of bestseller 'The Happiness Advantage'.
Customers who subscribe to the Four Oceans Happiness products & services gain access to learning and development content from leaders in the fields of positive psychology, happiness and personal development. Four Oceans' products offer members a lesson and quiz-based learning program that teaches both the principles and practical application of what is learned. Achor says, Knowledge is only part of the battle. Without action, knowledge is often meaningless.
Beginning with the '21 Days of Happiness' course, offered free to subscribers, Four Oceans products offer personal development and self-improvement for anyone who wants to learn how to elevate their lives personally and professionally.
BUSINESS OPPORTUNITY
Four Oceans operates a social selling model that allows individuals to participate in an income generating opportunity. Through their groundbreaking compensation model, the Four Oceans Happiness business opportunity allows individuals to join as Partners, benefiting from both their personal sales of memberships to customers, and from the efforts of others that they may sponsor into the program.
Four Oceans' commitment to learning and personal development extends to their Partners by training on the key fundamentals specific to building a successful business. The Partner development program will teach powerful personal skills basics like how to approach new people, and how to invite them to work with you; professional skills including how to conduct effective one-on-one meetings; and taking their Four Oceans business to the next level.
INTERNATIONAL EXPANSION
In addition to today's announcement of their US launch, Four Oceans also announced plans for pursuing an ambitious expansion plan across Asia and Europe. We are committed to developing inspirational, life enhancing product which will continue to add value to our membership and create an amazing opportunity for our Partners, said Beverley Warburton, Executive Vice President of Global Expansion.
We are excited with large numbers already embracing the Four Oceans concept in the US and Southeast Asia, and we will roll out the Four Oceans opportunity as quickly as we are able to deliver an uncompromised product and service to Partners and Customers around the globe. We have the technology and the demand. Four Oceans is a unique possibility for Partners to build an elevating, sustainable business in an uncertain world,'' added Warburton.
Four Oceans will continue pre-launch activities in Australia, New Zealand, Hong Kong and the Philippines, launching those markets in succession during 2015.
About Four Oceans
Four Oceans is a lifestyle brand that is disrupting the idea that hard work and sacrifice precedes happiness and success. The social selling company, based in Plano Texas, is at the forefront of the happiness movement. Starting with the '21 Day of Happiness Course,' Four Oceans learning and self-improvement programs are helping people around the world elevate their lives personally and professionally.
Four Oceans offers individuals two ways to get involved with the company. The first way is to sign up to be a Four Oceans customer and take advantage of Happiness self-improvement and life skills curriculum and experiential programs. Alternatively, people can become a Four Oceans Partner, joining people worldwide currently enjoying the satisfaction and reward of owning their own business rewarding them for selling products and helping others. Partners earn income and other cash and business incentives based on personal and group performance.
Four Oceans is headquartered in Plano, Texas, serving the US and Asia. For more information about Four Oceans, visit FOUROCEANS.com and follow FOUROCEANS on Facebook and Twitter (@weareFOUROCEANS).