Industry Leader Kevin J. Owens Joins Talk Fusion
April 1, 2015
By Nicole Dunkley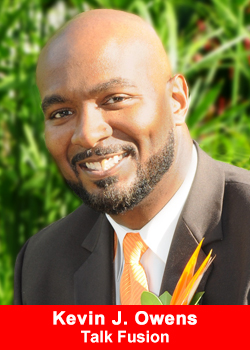 Though a network marketing veteran since 2001, new Associate Kevin J. Owen's first introduction to Talk Fusion was through the innovative CONNECT video communication suite.
"A childhood friend was using the Talk Fusion services and believed it would help me grow my other businesses. It was clear that it could be used as a tool to help others live out their life's purpose."
While Kevin saw the immediate benefit of Talk Fusion's technology and its ability to connect the world with the power of video, it was his experience with direct selling that made him decide to join.
"Talk Fusion is the right opportunity for anyone looking to make a change in their life because we have the best product in the world. But what makes Talk Fusion different from any other opportunity is the Instant Pay Compensation Plan. Talk Fusion is the first company in the world to do this. Imagine if your boss tapped you on your shoulder every three minutes to tell you that you are being paid."
Kevin quickly recognized that Talk Fusion's incentive program rewards dedication and diligent work. "It's proven and it works! No other company that I know of pays for your Mercedes-Benz and gives you the title free and clear if you qualify," he observed, listing just one of the company's many recognition incentives. "Talk Fusion wants its Associates to have the best of the best."
The same CONNECT video products that initially drew him to the company also allow Kevin to easily share Talk Fusion with others and begin to build a dedicated team of successful Associates. "Using the technology has allowed me to educate and motivate people throughout the world from the comfort of their home. Talk Fusion helps others live out their dreams."
Kevin has other synergies with Talk Fusion and its corporate culture. "What I like most about Talk Fusion is how they give back to the community and around the world."
As a Three Time All-American with countless collegiate awards and sports records, Kevin has long applied his athletic abilities and background into promoting education and athletics for the youth. Active for over 20 years with Academic Athletics, Kevin is now the President of the Virginia Chapter. He formerly served on the Board of Directors for Girls, Inc., a national not-for-profit organization which inspires all girls to be educates all girls to be be strong, smart, and bold.
Kevin's natural leadership abilities are a perfect match for the direct selling industry. "The only true measure of a team's strength is the number of leaders in it who are duplicating and teaching the system. With network marketing, particularly Talk Fusion, I am able to teach others how to become leaders, so they can then mentor new leaders. My plan to climb the ranks will be to duplicate the proven system already in place and lead others to do the same."
ABOUT TALK FUSION
A trend-setting industry leader, Talk Fusion connects people around the world through cutting-edge video technology for social and business communication. Talk Fusion's innovative video products are marketed person-to-person by independent Associates in more than 140 countries, empowering them to earn the financial freedom to live their dreams.
Founded in 2007 by CEO Bob Reina, Talk Fusion introduced the world's first Instant Pay Compensation Plan. Talk Fusion adheres to the highest ethical business practices and is a member of the prestigious Direct Selling Association (DSA). Reina firmly believes that "with great success comes greater responsibility."
Talk Fusion fosters a strong commitment to giving back to friends, family, communities, and animal charities across the world to produce a positive global change. Learn more at www.TalkFusion.com and "Like" Talk Fusion at www.facebook.com/TalkFusion.
Income Disclaimer:
Any earnings portrayed in any Talk Fusion marketing materials are not necessarily representative of the income, if any, that a Talk Fusion Associate can or will earn through his or her participation in the Talk Fusion Instant Pay Compensation Plan. All references to income, implied or stated, throughout the Talk Fusion Instant Pay Compensation Plan are for illustrative purposes only. These figures should not be considered as guarantees or projections of your actual earnings or profits. Talk Fusion does NOT guarantee any level of income or earnings to any Associate; any representation or guarantee of earnings would be misleading. The purchase of a Talk Fusion Product Package is completely optional and is not required for an Associate to participate in the Talk Fusion Instant Pay Compensation Plan.