Javita Hits Record Breaking Quarter
April 14, 2015
By Tina Williams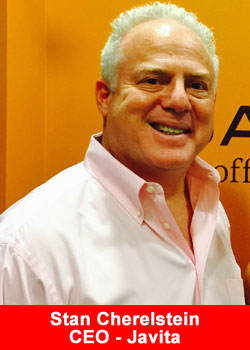 After completing its third successful year in business, with annual sales up more than 150%, Javita closed the first quarter of 2015 with record breaking numbers.
During the first quarter of 2015, Javita had its largest sales month ever, which was the result of the largest number of new Members and Preferred Customers joining.
Javita's Founder and President Stan Cherelstein attributes the great results to its focus on helping the average person win.
We have a great brand with effective, highly consumable products that are easy for the average person to understand and share. We combine that with a simple business building system that allows the average person to quickly earn back their initial investment.
We are thrilled to have 30 months of consecutive growth and are looking forward to some great months ahead and having our second National Convention at Caesars Palace in August, Cherelstein said.
Javita will hold its second annual national convention — Changing Lives 2015 during August 6-8, 2015. Javita's exceptional growth has kept it on track to reach record numbers in sales revenue by the end of 2015.
About Javita
Javita, with global headquarters in Boca Raton, Florida, is a company committed to changing the lives of millions of people by bringing together healthy coffee and other beverages with direct selling. Javita offers healthy, unique, great tasting products and an incredible business opportunity that can enhance people's lives – one cup at a time.
The company has offices and warehouses in North America, Europe and Asia and does business in more than 30 countries globally. Millions of people already have coffee in their life, Javita gives you coffee for your life.