LifeVantage Names Darren Jensen as CEO
April 29, 2015
By Team Business For Home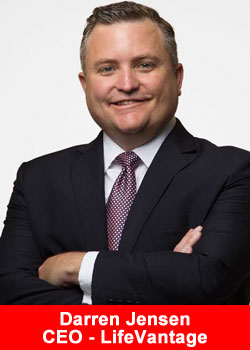 LifeVantage Corporation (Nasdaq:LFVN), announced today that Darren Jensen has been named President and Chief Executive Officer for the company.
Mr. Jensen's appointment is effective May 18, 2015..
LifeVantage is uniquely positioned as one of the leading product-driven business opportunities available, said Jensen. I am honored and delighted to work together with our independent distributors to execute our vision of bringing that opportunity to the world.
Jensen brings 25 years of global network marketing and direct selling experience to LifeVantage from companies selling a variety of product types including nutritional supplements and personal care products.
Darren Jensen is a well-known and a respected visionary leader in the global network marketing and direct selling industry, said Garry Mauro, Chairman of the Board of Directors for LifeVantage Corporation. The Board quickly recognized that Darren's unparalleled track record of success with leading the development and execution of business expansion and sales growth strategies makes him the right leader for LifeVantage.
About LifeVantage Corporation
LifeVantage Corporation (Nasdaq:LFVN), is a science based network marketing company dedicated to visionary science that looks to transform health, wellness and anti-aging internally and externally at the cellular level.
The company is the maker of Protandim®, the Nrf2 Synergizer® patented dietary supplement, the TrueScience™ Anti-Aging Skin Care Regimen, Canine Health, and the AXIO™ energy product line. LifeVantage was founded in 2003 and is headquartered in Salt Lake City, Utah.