Medifast Profits Fall 45%, Overhauls Board
April 18, 2015
By Team Business For Home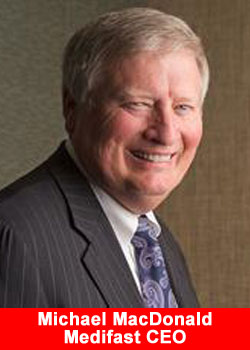 Weight-loss company Medifast Inc. announced Monday that it would overhaul its board of directors under pressure from an activist investment firm, removing eight directors and adding five.
Medifast, is seeking to break into international markets and expand its national reach as it copes with growing competition from technology-driven diet programs on smartphones and other gadgets. CEO Michael MacDonald, who will continue as chairman, said the new board would help the company reach those goals.
The board members who are being replaced were good board members but didn't have the national experience or exposure that these guys were looking for, MacDonald said. What we're doing now is putting in what we feel will be people who have very good skill sets to take us to that next level.
MacDonald said he began talking last year with Glenn W. Welling, founder and chief investment officer of Engaged Capital, after the firm bought about 6% of the company's shares. The board changes are the result of an agreement between Medifast and Engaged Capital, and will start to go into effect after the company's annual meeting in June.
Engaged Capital, which formed in 2012, has waged proxy fights at a range of companies including Abercrombie, Jamba Juice, Oplink, Volcano, Trimas and Silicon Image. The firm currently is involved in a proxy fight at Rovi Corp.
Riyaz Lalani, a spokesman for Engaged Capital, said the firm generally takes a constructive approach to activism. While the firm has said in regulatory filings that Medifast stock is undervalued, Lalani declined to comment about Medifast in particular but spoke generally about how the company operates.
They don't always take seats on the board; they're happy if changes happen on their own, Lalani said. They're seeking things like governance improvements, better capital allocations. … They're interested in driving sales and enhancing profitability, instituting a shareholder-friendly capital allocation.
The departing Medifast board members include Meg Sheetz, Medifast's president and COO, and Jason Groves, the company's executive vice president and general counsel. Both will remain in their positions at the company.
The company will nominate to the board Welling, Jeffrey J. Brown, CEO of Equity Partners LLC, who will become the lead director, and Jori Hartwig, chief operating officer of 3Kinetic Inc. Two additional independent directors will be jointly selected by Medifast and Engaged Capital.
After the changes, the board will decrease from 12 to nine members.
The restructuring comes after a challenging time for Medifast. In 2014, profit fell about 45% to $13.2 million.