MonaVie Celebrates Successful European Convention
April 7, 2015
By Tina Williams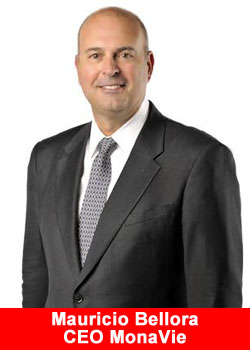 "Energizing," "Inspiring," "Fresh," "Innovative," were just some of the words to describe this year's European Momentum Convention that took place in Madrid, Spain on 21-22 March, 2015. Led by master of ceremony, Senior Director of Marketing North America Stephen Jones, it was an infusion of fun, new philosophies, fresh faces, and premier recognition for more than 2,000 European distributors.
Tomorrow Never Dies
James Bond was the theme of this year's Black Tie which celebrated our most accomplished distributors in 007 style. Qualifiers, decked in their finest, toasted to a bright future with engaged and passionate leadership offering a renewed commitment to helping others succeed. With inspiring speeches by MonaVie CEO, Mauricio Bellora, and Chief Marketing Officer Paul Muehlmann, tomorrow has never looked brighter.
Leadership is about Those You Are Serving
The overwhelming theme presented by the majority of leaders, including world renowned motivational speaker, author, business leader, and publisher of Success Magazine, Darren Hardy, was one of leadership through personal development and helping others to achieve success. 21st century leadership is not about accomplishing your dreams; it is about helping others accomplish theirs. You are the champion for the legacy that lives in the heart of your people," Darren boomed from the stage. Absolutely everyone was captivated by his message, anxiously taking notes so as not to miss a word.
Consumer Focus Sharing Tool
A powerful consumer-focused tool was presented onstage by Sandra Cavaqueria, General Manager Portugal and Director of EU Events and Marketing, Share what you care about and use every day. This consumer focused product brochure helps you tailor product selections to meet your customer's needs." Colorful and engaging, this brochure focuses on goal setting and provides recommendations to help determine the right product combinations to support your goals.
Also announced were new product combination packs designed to support the product brochure. With free shipping, these combo packs are a cost-saving solution to ensuring you have what you need when you need it. Learn more about new Combo Packs and the Premier Product Pack.
Powerful Promotions Embrace New Philosophies
Three new promotions were announced that were designed to support the concept of achieving rewards through practicing the right behaviors:
When you are first starting out in your business, we know how important it is to gain momentum and start seeing rewards. That's why this promotion has been specifically designed for beginning ranks (Star to Star 1000).
Part of what we learned at convention is that employing a versatile business model that sets a clear and realistic road to success. Our goal to support this model is to create 1 million "thousandaires" and in doing so, we want you to be a part of our 1000 Club!
Be one of the first to establish a mynt European presence leading up to the mynt pre-launch in June 2015 and receive swag, online recognition, stage recognition at all prelaunch events, access to mynt 1G business cards, and the opportunity to test new products.
Celebrating Ten Years and Giving MORE
In celebration of the achievement of 10 years in the industry, special commemorative MonaVie 10th anniversary bottles were sold to raise funds for The MORE Project. In addition, our MonaVie family of distributors generously donated to The MORE Project and in total sponsored 73 MORE Project children! The MORE Project thanks all for such life-changing generosity and for demonstrating the very essence of our company—a culture of generosity and charity.
As the evening drew to a close, KatyHolt-Larsen, President of mynt Markets, had these words for MonaVie Europe, I have been awed by you, touched by you, and I am proud to serve you.
Amazing success is happening everywhere in MonaVie and this event was a shining example of what can be accomplished when determined distributors take the lead in achieving their dreams and helping others to do the same.