Nerium International Revenue Increases To $403 Million
April 10, 2015
By Team Business For Home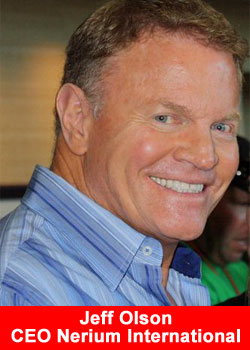 Nerium International was recognized by Direct Selling News at No.40 as part of its DSN Global 100 List of top direct sales companies.
The news, which was announced at an awards ceremony in Dallas, revealed that the company earned the No. 40 spot on this year's list, at $403 million in 2014 annual revenue. This ranking makes Nerium the youngest company ever to break into the Top 50 of the Global 100 list.
Last year, Nerium ranked No. 54, and in 2013, the company was honored as the youngest company ever to make the list when it ranked at No. 86. Nerium has made huge gains each year on this list.
In addition to earning a top spot on this esteemed list, Nerium ranks in the Top 5 of the DSN Global 100 companies in the Greatest Percentage Growth category and in the Top 15 for Greatest Dollar Growth. Based on its percentage growth, Nerium is the only company maintaining a Top 5 ranking in the category two years in a row.
New this year, Direct Selling News has announced the North American 50, a list comprised of the 50 strongest relationship marketing companies based in North America. Nerium, the youngest company to have made the list, ranks at No. 21.
Nerium's accomplishments during its first few years in business are truly remarkable, said John Fleming, Editor-in-Chief of Direct Selling News. The company started on our list at No. 86 and has been climbing the ladder ever since. We look forward to celebrating its future growth and continued evolution.
In its first year, Nerium achieved more than $100 million in sales, becoming the only direct sales company on record to achieve this in its first full year of operation. To date, the company has increased its revenue to more than $700 million since 2011, expanded its product portfolio, and launched beyond the U.S. to Canada and Mexico.
We are honored to be recognized for a third year for our continued growth, success and commitment to expanding our company and products, said Jeff Olson, Founder & Chief Executive Officer. Since launch, our company has grown exponentially. We are proud of all we have been able to accomplish, which we owe to our outstanding employees and Independent Brand Partners.
About Nerium
Nerium International, LLC, headquartered in Addison, Texas, is a relationship marketing company that markets breakthrough products validated by science. Since its August 2011 launch, Nerium has reached record-breaking sales and earned industry accolades while building millions of consumer fans along the way. Led by an award-winning executive team with more than 200 years of collective industry experience, Nerium is committed to developing and distributing anti-aging products that are rooted in real science, produce real results, and improve consumers' lives. For more information, please visit https://www.mynerium.com.