Top 100 Global Direct Selling Companies 2015
April 9, 2015
By Team Business For Home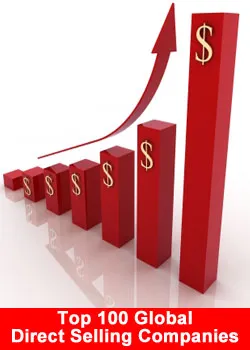 Since 2004 Direct Selling News has been dedicated to telling stories focused on relating the opportunities direct sellers provide to millions of independent business owners around the globe. So it seemed only fitting for DSN to further recognize the industry by compiling a comprehensive list, starting in 2010, of the top direct selling companies in the world.
The DSN Global 100 list offers a unique perspective on the global impact of the industry on economic and social realms. It provides a range of mutual learning not only for industry members but also for researchers, investors and—most important—those seeking opportunities within the industry.
As Business For Home we have analysed the Sales for 2013 and 2014 based on the DSN figures and you find 2 lists below:
1. Based on 2014 sales with the growth or decline compare to 2013
2. Based on the largest growth in percentage.
If a company was not present in the list last year we have taken the revenue for 2013. The total revenue of the top 100 is $81 Billion, about 50% of the sales the Direct Selling Industry is suppose to do worldwide.
| Rank | Nr. | Company | Sales 2014 in $ USA Million | Sales 2013 | Growth in $ Million | Growth in % |
| --- | --- | --- | --- | --- | --- | --- |
| 1 | 1 | Amway | 10800 | 11800 | -1000 | -8,5% |
| 2 | 2 | Avon | 8900 | 9950 | -1050 | -10,6% |
| 3 | 3 | Herbalife | 5000 | 4800 | 200 | 4,2% |
| 4 | 4 | Mary Kay | 4000 | 3600 | 400 | 11,1% |
| 5 | 5 | Vorwerk | 3900 | 3700 | 200 | 5,4% |
| 6 | 6 | Natura  | 3200 | 3200 | 0 | 0,0% |
| 7 | 7 | Infinitus | 2640 | 2640 | 0 | 0,0% |
| 8 | 8 | Tupperware | 2600 | 2670 | -70 | -2,6% |
| 9 | 9 | Nu Skin | 2570 | 3180 | -610 | -19,2% |
| 10 | 10 | JoyMain | 2000 | 2000 | 0 | 0,0% |
| 11 | 11 | Oriflame | 1680 | 1950 | -270 | -13,8% |
| 12 | 12 | Ambit Energy | 1500 | 1200 | 300 | 25,0% |
| 13 | 13 | Belcorp | 1400 | 1960 | -560 | -28,6% |
| 14 | 14 | Primerica | 1340 | 1270 | 70 | 5,5% |
| 15 | 15 | Tiens | 1160 | 1160 | 0 | 0,0% |
| 16 | 16 | Telecom Plus | 1100 | 1100 | 0 | 0,0% |
| 17 | 17 | New Era | 928 | 678 | 250 | 36,9% |
| 18 | 18 | Stream Energy | 918 | 867 | 51 | 5,9% |
| 19 | 19 | Miki | 868 | 783 | 85 | 10,9% |
| 20 | 20 | Yanbal | 856 | 848 | 8 | 0,9% |
| 21 | 21 | Shaklee | 844 | 844 | 0 | 0,0% |
| 22 | 22 | ACN  | 827 | 700 | 127 | 18,1% |
| 23 | 23 | Pola | 800 | 800 | 0 | 0,0% |
| 24 | 24 | USANA | 790 | 718 | 72 | 10,0% |
| 25 | 25 | DXN | 780 | 780 | 0 | 0,0% |
| 26 | 26 | Cosway | 749 | 440 | 309 | 70,2% |
| 27 | 27 | Isagenix | 725 | 448 | 277 | 61,8% |
| 28 | 28 | Thirty-One Gifts | 643 | 763 | -120 | -15,7% |
| 29 | 29 | Market America | 626 | 547 | 79 | 14,4% |
| 30 | 30 | Noevir | 582 | 455 | 127 | 27,9% |
| 31 | 31 | For You | 560 | 560 | 0 | 0,0% |
| 32 | 32 | It Works! | 538 | 456 | 82 | 18,0% |
| 33 | 33 | Team Beachbody | 518 | 328 | 190 | 57,9% |
| 34 | 34 | Rolmex | 512 | 512 | 0 | 0,0% |
| 35 | 35 | Forbes Lux | 501 | 489 | 12 | 2,5% |
| 36 | 36 | AdvoCare | 494 | 460 | 34 | 7,4% |
| 37 | 37 | Arbonne | 486 | 413 | 73 | 17,7% |
| 38 | 38 | Apollo | 448 | 340 | 108 | 31,8% |
| 39 | 39 | Jeunesse | 419 | 257 | 162 | 63,0% |
| 40 | 40 | Scentsy | 419 | 485 | -66 | -13,6% |
| 41 | 41 | Nerium | 403 | 219 | 184 | 84,0% |
| 42 | 42 | Yofoto | 400 | 428 | -28 | -6,5% |
| 43 | 43 | Team National | 399 | 332 | 67 | 20,2% |
| 44 | 44 | Nature\'s Sunshine | 366 | 378 | -12 | -3,2% |
| 45 | 45 | KK Assuran | 362 | 332 | 30 | 9,0% |
| 46 | 46 | For Days | 360 | 376 | -16 | -4,3% |
| 47 | 47 | WorldVentures | 352 | 195 | 157 | 80,5% |
| 48 | 48 | PartyLite | 347 | 347 | 0 | 0,0% |
| 49 | 49 | 4Life Research | 332 | 300 | 32 | 10,7% |
| 50 | 50 | Rodan + Fields | 330 | 196 | 134 | 68,4% |
Showing 1 to 50 of 102 entries
Based on largest growth in %
| Rank | Nr. | Company | Sales 2014 in $ USA Million | Sales 2013 | Growth in $ Million | Growth in % |
| --- | --- | --- | --- | --- | --- | --- |
| 1 | 1 | SEACRET | 145 | 71 | 74 | 104,20% |
| 2 | 2 | Plexus Worldwide | 310 | 160 | 150 | 93,80% |
| 3 | 3 | Nerium | 403 | 219 | 184 | 84,00% |
| 4 | 4 | WorldVentures | 352 | 195 | 157 | 80,50% |
| 5 | 5 | Cosway | 749 | 440 | 309 | 70,20% |
| 6 | 6 | ARIIX | 73 | 43 | 30 | 69,80% |
| 7 | 7 | Rodan + Fields | 330 | 196 | 134 | 68,40% |
| 8 | 8 | CVSL | 109 | 65 | 44 | 67,70% |
| 9 | 9 | Jeunesse | 419 | 257 | 162 | 63,00% |
| 10 | 10 | Isagenix | 725 | 448 | 277 | 61,80% |
| 11 | 11 | Team Beachbody | 518 | 328 | 190 | 57,90% |
| 12 | 12 | Naturally Plus | 313 | 199 | 114 | 57,30% |
| 13 | 13 | Youngevity | 134 | 86 | 48 | 55,80% |
| 14 | 14 | LG Household & Healthcare | 321 | 215 | 106 | 49,30% |
| 15 | 15 | New Era | 928 | 678 | 250 | 36,90% |
| 16 | 16 | Apollo | 448 | 340 | 108 | 31,80% |
| 17 | 17 | Naris Cosmetics | 282 | 214 | 68 | 31,80% |
| 18 | 18 | Noevir | 582 | 455 | 127 | 27,90% |
| 19 | 19 | Ion Cosmetics | 88 | 70 | 18 | 25,70% |
| 20 | 20 | Ambit Energy | 1500 | 1200 | 300 | 25,00% |
| 21 | 21 | Chandeal | 89 | 72 | 17 | 23,60% |
| 22 | 22 | Family Heritage Life | 237 | 192 | 45 | 23,40% |
| 23 | 23 | Diana | 204 | 166 | 38 | 22,90% |
| 24 | 24 | Arsoa Honsha | 118 | 96 | 22 | 22,90% |
| 25 | 25 | Akasuka | 102 | 83 | 19 | 22,90% |
| 26 | 26 | Viridian | 328 | 267 | 61 | 22,80% |
| 27 | 27 | Menard Cosmetics | 313 | 255 | 58 | 22,70% |
| 28 | 28 | Japan Life | 229 | 188 | 41 | 21,80% |
| 29 | 29 | Team National | 399 | 332 | 67 | 20,20% |
| 30 | 30 | Charle | 250 | 208 | 42 | 20,20% |
| 31 | 31 | ACN  | 827 | 700 | 127 | 18,10% |
| 32 | 32 | It Works! | 538 | 456 | 82 | 18,00% |
| 33 | 33 | Arbonne | 486 | 413 | 73 | 17,70% |
| 34 | 34 | ASEA | 70 | 60 | 10 | 16,70% |
| 35 | 35 | Market America | 626 | 547 | 79 | 14,40% |
| 36 | 36 | BearCere Ju | 185 | 166 | 19 | 11,40% |
| 37 | 37 | Mary Kay | 4000 | 3600 | 400 | 11,10% |
| 38 | 38 | Miki | 868 | 783 | 85 | 10,90% |
| 39 | 39 | 4Life Research | 332 | 300 | 32 | 10,70% |
| 40 | 40 | PM-International | 313 | 284 | 29 | 10,20% |
| 41 | 41 | USANA | 790 | 718 | 72 | 10,00% |
| 42 | 42 | Zurvita | 69 | 63 | 6 | 9,50% |
| 43 | 43 | KK Assuran | 362 | 332 | 30 | 9,00% |
| 44 | 44 | Hy Cite | 178 | 164 | 14 | 8,50% |
| 45 | 45 | Pro-Health | 221 | 204 | 17 | 8,30% |
| 46 | 46 | AdvoCare | 494 | 460 | 34 | 7,40% |
| 47 | 47 | Origami Owl | 250 | 233 | 17 | 7,30% |
| 48 | 48 | Mannatech | 190 | 177 | 13 | 7,30% |
| 49 | 49 | Stream Energy | 918 | 867 | 51 | 5,90% |
| 50 | 50 | Primerica | 1340 | 1270 | 70 | 5,50% |
Showing 1 to 50 of 100 entries