New MLM Laguna Blends To Launch Hemp Products
April 23, 2015
By Team Business For Home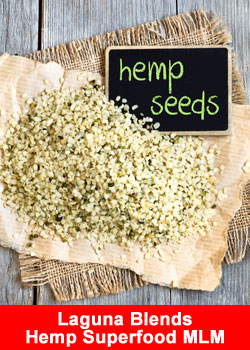 Laguna Blends Inc, a brand new network marketing company focussed on nutritional health benefits derived from hemp, announced that it has signed a letter of intent with Naturally Splendid Enterprises Ltd to enter into a research, development and manufacturing agreement for the purpose of pursuing mutually beneficial business opportunities in the hemp food products area.
NSP will contribute its research and development expertise in hemp-derived, high quality, nutrient-dense foods, nutritional food enhancers and related products. In particular, NSP will finalize its HempOmegaTM protein formulation and flavour HempOmegaTM protein to meet Laguna's requirements. Laguna will contribute its expertise as a marketing and sales company in the hemp food products market and the purchase, sale and distribution of the Laguna HempOmegaTM Product.
Laguna and NSP anticipate finalizing the definitive R&D Agreement by the end of May 2015.
Laguna will place an initial $100,000 order for the Laguna HempOmegaTM Product. Laguna anticipates ordering a further $1,500,000 of the product in the first year of the R&D Agreement and $4,500,000 of the product in the second year. Laguna must meet minimum sales targets (to be agreed upon in the R&D Agreement) in order to retain exclusive rights to the product.
Stuart Gray, President, CEO and Director of Laguna Blends Inc. states, Naturally Splendid is a leader in the research and development, and production of hemp-based superfood products. We are delighted to collaborate with NSP with the development of the hemp protein formulations. The products that NSP produces for Laguna will be high in quality and unique to what's currently available. Laguna affiliates will be able to retail these products in the United States and Canada.
Laguna anticipates launching its business by July of 2015.
About Laguna Blends Inc.
Laguna's business is focused on the nutritional health benefits derived from hemp. Laguna has independent affiliates that generate retail sales and have the ability to recruit other affiliates. Laguna's affiliates utilize tools and technology that enable them to build an international business from their own home or while travelling on the road.
The first products to be launched by Laguna are expected to be functional beverages that provide high levels of protein and/or nutrition. Laguna's products are made from high quality hemp protein. Laguna will market all of the Hemp Omega protein products under the name Laguna Blends and or brand names owned by Laguna. Laguna will sell its products through its independent affiliates in the USA and Canada.
About Naturally Splendid Enterprises Ltd.
Naturally Splendid has an exclusive licensing agreement to market and distribute the full complement of patent pending, plant-based omega products created by Boreal Technologies. The products include HempOmega(TM) and H2Omega(TM), as well as the AlgaeOmega(TM) FlaxOmega(TM), CanolaOmega(TM), and ChiaOmega(TM) plant based omega products. These novel products utilize microencapsulation and are available in both a powder format and an aqueous solution for increased flexibility in ingredient applications and stand-alone products. Additionally, NSP has licensed from FSL progressive cannabinoid extraction and formulation technologies including the world's first water soluble cannabinoid patent.