QNET Empowers Women Entrepreneurs
April 3, 2015
By Nicole Dunkley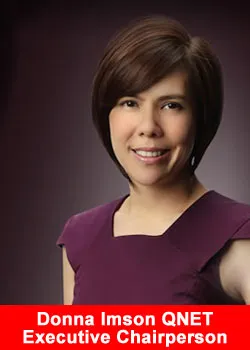 To celebrate Women's Month, prominent Asian direct selling company QNET hosted an exclusive women lifestyle event at the Radisson Royal hotel in Dubai. With this year's theme "MAKE IT HAPPEN", QNET is all out in helping develop women entrepreneurs.
Entrepreneurship is exactly about making things happen and getting things done, and women are well-known to wield this power be it in their households or in the corporate world. One of the cornerstones of QNET's philosophy is equality.
A famous saying goes, "The hand that rocks the cradle rules the world". More and more women are finding their true calling in selling because of their intuitive nature. They are natural-born entrepreneurs with the ability to emphatize and listen to the real needs of people around them.
Donna Imson-Lecaroz, Chairperson of QNET, and a successful woman entrepreneur herself says women need three things to harness the power of people into a successful business: a woman who strives to understand people and their unique strengths, weaknesses and motivations; a woman's heart which allows to love and raise themselves into able leaders so that they may have the capacity to love others and serve them; and a woman's hand which teaches women to help people by adding value to their gifts and driving them to succeed so that they may be inspired to do the same.
Khaled Diab, Regional General Manager, QNET MENA said: "To honor women and their growing role in society, QNET has organised this private pampering event in a fun, relaxing and interactive setting. We initiated this not only to treat our women in the media in conjunction with Women's Month but to display QNETs dedication to developing a unque world for women within our structure. And we hope that they felt our sincere appreciation of their ability to drive positive change and blaze new trails. "
During the event, QNET showcased its feminine range of products in health, wellness and beauty especially designed to make women healthier, stronger, feel younger and look their best.
These include the newest make-up collection, Couleurs by QNET, the breakthrough skin care range PhysioRadiance, and the best slimming innovation Shapers, as well as the luxury Bernard H. Mayer lady watches. QNET also conducted a short talk about women's valuable contributions to making the world a better place to live in.
About QNET
As a prominent Asian direct selling company, QNET provides a wide range of life enhancing products that are offered through its proprietary e-commerce platform to customers and distributors in more than 100 countries. The company also has some 25 offices and agencies worldwide, and more than 50 stockists, apart from localized operations or franchisees in a number of countries. In UAE QNET operates from 3 locations, offices in Dubai and Abu Dhabi as well as a logistics hub in Mussafah.
Established in Hong Kong in 1998, QNET is a member of the Direct Selling Association of Malaysia, Singapore, and the Philippines. QNET is also a part of the Hong Kong Health Food Association and the Health Supplements Industry Association of Singapore among others.
QNET is active in sports sponsorships around the world, including Formula 1, football, badminton and more, due to the company's strong belief that the drive, passion and teamwork of sports mirrors that of QNET.