QNET Launches New Global Compensation Plan
April 20, 2015
By Team Business For Home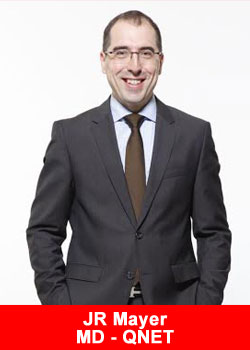 QNET, Asia's leading direct selling company, has embarked on an aggressive growth strategy by raising its income potential for distributors with a bold, new compensation plan that is set to bring positive sales growth in fiscal 2015.
QNET unveiled its super hybrid compensation plan called Q10 in Kuala Lumpur today that will give QNET business owners higher income potential and incentives for steady growth.
"With the power of 10, QNET will pay up to 50 percent of sales in commissions, and with 10 ways to earn, true residual income and lasting wealth are within reach of every QNET Independent Representative (IR).

"And, Q10 will be the ultimate game changer simply because the move is aimed at inspiring QNET IRs to build solid, long-term growth and residual income. It is a very bold move by the company to change the compensation plan, but we are confident it will bring us the desired results" said Mr. JR Mayer, Managing Director of QNET.
The launch of Q10 Compensation plan marks the third time that QNET has changed its compensation plan in its 16 years of history. The first was in 2004 and the last in 2012.
Q10 is called a super hybrid plan because it combines two well-known industry traditions: a binary and a unilevel compensation plans. By having two plans in one – the Main Plan and the enhanced RSP (repeat sales points) Plan, Q10 is a huge step forward in network marketing compensation and will significantly improve income potential for QNET IRs.
According to Mayer, the compensation plan is the lifeblood of the company as the many benefits in the plan will undoubtedly drive the success of QNET IRs. Among them include retail profit, early payout and dynamic as well as repeat sales commission.
"Our IRs in more than 100 countries and territories will now be able to achieve their potential through this Q10 compensation plan, thus making full use of the entrepreneurial opportunities that we have created for them including training and leadership advancement. Our global QNET Family has seen through 16 remarkable years – growing bigger, stronger, and better, and 2015 will definitely be our Game Changer year," noted Mayer.
When asked why it is called Q10, Mayer explained that the super hybrid compensation plan multiplies the IRs earning potential with the power of 10 ways to earn.
"Our IRs are QNET's most important asset and with Q10, we are rewarding them with a dynamic compensation plan that will let them live their dream and build their prosperity. In addition to new income channels, the plan's strongest aspect is the ability to create more volume and more income. All they have to do is focus on these key behaviors: Refer, Repeat, Rise and Retain," added Mayer.
In conjunction with the new compensation plan launch, QNET also introduced new products that included two new nutrition product, Mayer said they represent the latest range of health and wellness products as QNET continues to work to inspire healthy living.
We are excited to launch Berry Xtreme and Kenta, bringing to more than 40 products to QNET's range of products that includes home and personal care. These new products feature the latest R&D and, and satisfy a broad set of needs with proprietary formulas that provide great taste while still being healthy. Both these products are a major milestone for the company," said Mayer.
QNET sells a variety of exclusive and innovative products of high quality to enhance the lives of its customers around the world. QNET's range of products includes 30 different brands categorized in nine different categories of wellness, personal care products, jewelry, nutrition, holiday packages, luxury products, homecare, weight management and online educational courses.
About QNET
As a prominent Asian direct selling company, QNET provides a wide range of life enhancing products that are offered through its proprietary e-commerce platform to customers and distributors in over 100 countries. The company also has some 25 offices and agencies worldwide, and more than 50 stockists, apart from localized operations or franchisees in a number of countries.
QNET is a member of the Direct Selling Associations of Malaysia, Singapore, and the Philippines. QNET is also a part of the Hong Kong Health Food Association and the Health Supplements Industry Association of Singapore among others.
QNET is active in sports sponsorships around the world, including Formula 1, Premier League football, badminton and more, due to the company's strong belief that the drive, passion and teamwork of sports mirrors that of QNET.
For more information, please visit QNET's website at www.qnet.net