Russia's Siberian Health Opens Indian Office
April 23, 2015
By Team Business For Home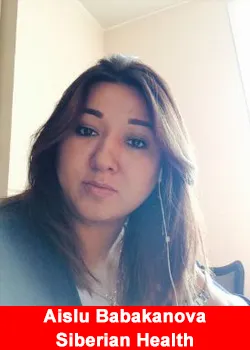 Siberian Health International, a Russian direct sales company from Novosibirk, Siberia, has opened its first office in India in New Delhi. India is the 25th country for the Russian healthcare and cosmetic products company.
Siberian Health offers products made from the herbs and minerals collected from Baikal Lake and Altai region of Russia known for their unique ecosystem.
Siberian Health Corporation was established in 1996 by two young entrepreneurs, Evgenij Volikov and Tatiana Gorohovskaya. By 2001, the company had its own Research and Innovation Center located in Akademgorodok, Novosibirsk. The center conducts medical and biological research for developing new formulations for the company's health products based on science. From 2004, the company began its international expansion in CIS countries, Europe and US. Within a decade, Siberian Health launched its business in more than 20 countries.
"We opened our office in Delhi on February, 1. It was a so-called technical launch, although the sales operations have already started. For the next three months, we will be looking at the response. And by the end of April we are planning to have an official opening supported by advertising campaign and other activities," Aislu Babakanova, the Head of Start-Up Department, Siberian Health International.
According to her, Siberian Health International Private Limited was registered in India about a year ago, but it took quite long time to register the brand and all the products, as India is not an easy country in terms of bureaucratic procedures.
"India is interesting from many points of view. There is a large Indian diaspora in Russia as well as in US, and there were many people who were interested in our products, some of them were even sending our products to India," says Babakanova. "People started asking where to buy our products in India, so we decided why not to enter India. We conducted market researches and understood that we can be competitive, even though India is the global pharmaceutical giant. Moreover, we not only offer products for health and beauty care, but also a business".
The company started signing up sales representatives (called "partners" in the company terminology) in India and has several partners from Russia who arrived to India to develop sales here. Nikolay Kislov, one such partners, believes that Siberian Health products will have a unique niche in Indian personal care market, as they are completely organic. "This is eco-cosmetics, we do not use parabens, sulphates, artificial colours, petrochemical cleansers and so on, and we don't test products on animals".
Babakanova adds that Siberian Health is focusing on eco approach and is engaged in charity work in the environmental field. "We protect Lake Baikal forest reserves. In India after six months or so we are planning to start doing the same, probably, sponsoring some environmental projects, parks, lakes, rivers. It is a part of our strategy in all countries".
According to experts, wellness, cosmetics and personal care segments dominate the Indian direct selling market accounting for about 47 per cent share. The industry engages about 5.8 million people, most of whom are women, and this number may grow to 18 million by 2025.
Babakanova says for next year Siberian Health will be testing the market. "India, in terms of size, is like eleven Russias. Considering our sales volumes in Russia, we understand what we can achieve in India. However, we are yet to establish ourselves in the market, we understand that sales volumes won't happen instantly," she adds.
The Russian company is planning to open offices in Mumbai and Bangalore and some other cities within next six month through franchising model. The company also plans to add two more offices in Delhi.
About Siberian Health
The Siberian Health Corporation was founded in 1996 in Novosibirsk. The company has developed an extensive line of biologically active dietary supplements and skin care products based on many years of scientific research of unique properties of herbs from the Baikal Lake and Altai Mountains in Siberia.
The company aims to help promote innovative health and beauty products based on unique Siberian herbs for Russian and international markets. The company has corporate offices in 25 countries around the world.