Shaklee Opens Global Innovation Centre
April 28, 2015
By Team Business For Home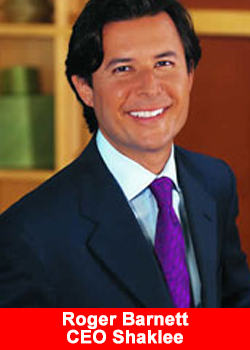 Shaklee Corporation opened the Dr. Forrest C. Shaklee Global Innovation Center in Pleasanton, California, near Shaklee World Headquarters.
The new Dr. Forrest C. Shaklee Global Innovation Center houses the Shaklee Research and Development teams in one location to enhance synergy and productivity among all the technical functions, with the goal of creating even stronger and more impactful innovations in the field of nutritional science. Leading the ceremony were Shaklee Chairman and CEO Roger Barnett, Chief Innovation Officer Emanuel Fakoukakis, and Nobel Prize Laureate and Shaklee Corporation Scientific Adviser, Dr. Elizabeth Blackburn.
This facility contains state-of-the-art scientific equipment ensuring Shaklee products meet and surpass the highest industry standards of product purity and safety. All products within the Shaklee portfolio will be developed and tested in this facility by R&D functions, including nutritional research, ingredient development, product/process development, quality assurance, and quality control. With this new facility, Shaklee will now have more than 50 scientists based in the city of Pleasanton.
It's exciting to participate on the Scientific Advisory Board, said Dr. Elizabeth Blackburn, at the Center's ribbon cutting ceremony. The new Global Innovation Center will allow for collaboration and promote the use of technology and research to help improve the health-span of people all over the world.
This year marks the celebration of 100 years since Shaklee founder, Dr. Forrest C. Shaklee, developed one of the first multivitamins, which has led to the global success of the Shaklee product portfolio, which now includes more than 100 products designed to improve overall health and wellness. Building on Dr. Shaklee's research, the Dr. Forrest C. Shaklee Global Innovation Center is an example of Shaklee continuing to invest in science, which will fuel technological advances in the health and nutrition industry for years to come. The charter of the Global Innovation Center is to deliver new product innovations that provide meaningful consumer benefits. In addition, Shaklee utilizes advanced testing techniques to guarantee that the ingredients and final products contain what they claim and are pure and free from contaminants.
Historically, Shaklee has been a leader in the development of testing methodologies. In fact, many of our testing technologies are being used by the industry after having been developed by Shaklee, said Emanuel Fakoukakis, Chief Innovation Officer for Shaklee Corporation. In addition, we are invested in discovering nutritional trends and technologies through what we call 'open innovation,' a unique strategy of Shaklee, where we partner with renowned PhD scientists and university programs to identify key trends and ingredients with long-lasting benefits.
There is more in store for the next 100 years of Shaklee innovation. Shaklee will continue to assess ways to provide innovative and scientifically-supported products to aid healthy aging and improve the quality of life, while providing consumers with a wide-selection of vitamins and supplements that can be customized to individuals' needs.
Innovation and science are at the heart of everything we do at Shaklee. This innovation center is just another step of our continued investment in the future, with the ultimate goal to help people live longer, healthier lives, said Roger Barnett, Chairman and CEO for Shaklee Corporation. The commitment from all of us at Shaklee is that our work will fuel the prosperity of our independent Distributors, as well as the health of people whose lives they touch.
About Shaklee Corporation
Shaklee, headquartered in Pleasanton, CA, was founded in 1956 and is a leading direct-selling company of natural products designed to create healthier lives. Shaklee has established a reputation for developing unique, superior health products which are safe, pure and effective, and has published more than 90 peer-reviewed studies in scientific journals. Shaklee offers a vast product portfolio of more than 100 products across nutrition, household, and personal care categories. These products, along with the Shaklee Business Opportunity, help people all over the world lead healthier, more prosperous lives, which it calls The Shaklee Effect™.
Shaklee was the first company in the world to obtain Climate Neutral® certification and fully offset its carbon emissions, resulting in a net-zero impact on the environment. The Shaklee relationship selling model offers flexible business opportunities for those who choose to share products with their families and communities. Shaklee generates revenue from product sales through more than 1.2 million Shaklee Family members worldwide.