Talk Fusion Offers Rewarding Possibilities After Retirement
April 15, 2015
By Nicole Dunkley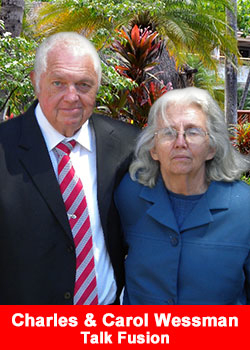 Talk Fusion Associates Charles and Carol Wessman have always been career-oriented. They had been excellent corporate employees—Carol for the US Post Office, Charles at a popular department store—and both looked forward to the time freedom that retirement would ultimately offer. However, when that time actually came, they found that the financial freedom wasn't really there to support it.
"Charles and I will celebrate our 43rd wedding anniversary in June," says Carol Wessman. "We have three grown daughters, nine grandchildren–with another due this summer–and a great granddaughter. I wanted to build a secure future for my family and make sure that we are able to live comfortably, leaving no one else with debts that we incurred."
However, the "typical" retirement plans from where they worked for over 40 years proved insufficient. That changed when they were introduced to the Talk Fusion Opportunity. The potential was immediately obvious.
"It can truly be done from home, starting right away," says Charles. "Everything needed to run a successful Talk Fusion business is already in place and ready to go instantly, including top-notch support."
Carol agrees. "Talk Fusion is simple, fun, and rewarding. The video communication products allow anyone with a computer and internet access to communicate with family, friends, or business associates anywhere on any device, in real time. It also provides Instant Pay in real time, literally 3 minutes after a sale."
Talk Fusion's Instant Pay Compensation Plan proved to be a major determining factor in the Wessmans' decision to join the company.
"Instant Pay also allows us to set aside funds for our family's future, for education or other needs, as well as for our church and other charities that are important to us," says Carol. "Talk Fusion allows us the time freedom to be with our family on special occasions… or whenever we want!"
Dedicated to pursuing the financial benefits of Talk Fusion for themselves and their family, the Wessmans have a firm strategy to grow their home business and reap the rewards, including bi-annual Dream Getaway trips to Hawaii and a Mercedes Madness Car Bonus. "We plan to attend as many live functions as possible, bring people to the webcasts, and help others do the same by showing them our simple, proven system," says Charles.
For the Wessmans, Talk Fusion has given them life after their corporate careers that is fulfilling and rewarding. As Carol says, "Talk Fusion keeps us active, doing something we wholeheartedly believe in, and allows more financial freedom than the typical retirement plan."
ABOUT TALK FUSION
A trend-setting industry leader, Talk Fusion connects people around the world through cutting-edge video technology for social and business communication. Talk Fusion's innovative video products are marketed person-to-person by independent Associates in more than 140 countries, empowering them to earn the financial freedom to live their dreams.
Founded in 2007 by CEO Bob Reina, Talk Fusion introduced the world's first Instant Pay Compensation Plan. Talk Fusion adheres to the highest ethical business practices and is a member of the prestigious Direct Selling Association (DSA). Reina firmly believes that "with great success comes greater responsibility."
Talk Fusion fosters a strong commitment to giving back to friends, family, communities, and animal charities across the world to produce a positive global change. Learn more at www.TalkFusion.com and "Like" Talk Fusion at www.facebook.com/TalkFusion.
Income Disclaimer:
Any earnings portrayed in any Talk Fusion marketing materials are not necessarily representative of the income, if any, that a Talk Fusion Associate can or will earn through his or her participation in the Talk Fusion Instant Pay Compensation Plan. All references to income, implied or stated, throughout the Talk Fusion Instant Pay Compensation Plan are for illustrative purposes only. These figures should not be considered as guarantees or projections of your actual earnings or profits. Talk Fusion does NOT guarantee any level of income or earnings to any Associate; any representation or guarantee of earnings would be misleading. The purchase of a Talk Fusion Product Package is completely optional and is not required for an Associate to participate in the Talk Fusion Instant Pay Compensation Plan.