$ 1,1 Billion Indian Direct Selling Industry Affected By Lack Of Laws
April 16, 2015
By Team Business For Home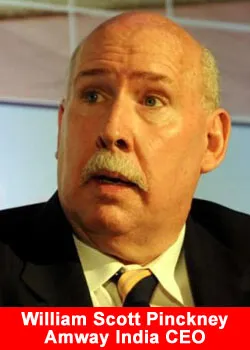 Often mistaken for Ponzi schemes, the Rs,7200 crore (approximately USD 1.1 billion) direct selling industry has taken a blow in the absence of clear laws.
Gurgaon resident Harpreet Kaur, 49, completed her MPhil in psychology from Delhi University in 1988. But marriage came in the way before she could begin her professional career. She spent years as a homemaker before her brother-in-law introduced her to Amway's direct selling business in 1998. Today, she and her husband boast of hundreds of distributors in their network, selling products worth over Rs.1 lakh a month. There was a time when all I did was wait for my husband, who ran an electronics unit in Delhi, to return home. Today, both of us are entrepreneurs, and have flexible work hours, says Kaur.
There are six million 'direct sellers' in India, such as Kaur, working for leading industry names such as Amway India, Tupperware, Modicare, Avon, Hindustan Unilever Network and Herbalife, selling healthcare goods, cosmetics and household products worth Rs.7,200 crore a year. Direct sellers, or distributors of these companies, earn money in two ways- a margin on the sales they do on their own, or in a multilevel structure, where they share a part of the commission made by those whom they have recruited. As much as 60 per cent of these direct sellers are women.
A report by consulting firm KPMG said the Indian direct selling industry employed 3.4 million women in fiscal 2012-13. It is a $167-billion industry globally, engaging more than 90 million direct sellers. Asia-Pacific forms its largest chunk, with a 44% share, followed by the Americas (20 per cent) and Europe (15 per cent).
In India, the direct selling business took off in the mid-1990s, and peaked with a growth rate of 27% in 2010-11. However, that growth has diminished drastically since. The industry grew a mere 4.3% in 2013-14, hit by allegations of fraud, arrests and closure of some businesses. The industry is alarmed.
Arrested development
Chavi Hemanth, secretary general of the Indian Direct Selling Association (IDSA), which has 19 companies as its members, says a lack of clarity in regulations is to blame. The impact of the arrests and the negative campaign is huge. Even legitimate activity is painted as fraudulent, she says.
William Pinckney, CEO of Amway India, the largest industry player, and two of his top executives were arrested by the Kerala police in May 2013 for alleged violation of the Prize Chits and Money Circulation Schemes (Banning) or PCMC Act. He was again arrested a year later by the Andhra Pradesh police on similar grounds.
The PCMC Act was formulated in 1978 to prevent fraudulent pyramid and Ponzi schemes from swindling people's money. Fraudulent schemes ape the legitimate model of direct selling firms and promise high returns, mostly through enrolment of new subscribers or investors into the system; when new recruits stop joining the pyramid, such schemes collapse. Sudipta Sen, boss of the West Bengal-based Saradha Group who is accused of duping 1.4 million investors of Rs.4,000 crore in a chit fund scam, is in prison on charges of fraud.
Ponzi schemes such as SpeakAsia and Japan Life also collapsed in recent years, making authorities exercise more caution than before. But they often tend to overreact.
Even bona fide direct selling business plans are sometimes mistakenly viewed as fraud, says Rajat Wahi, a partner with KPMG, which is now working with the industry to give it an image makeover.
In Andhra Pradesh and Telangana, 13 FIRs have been registered against Amway for operating an alleged illegal money circulation scheme and duping customers. These charges are all frivolous in nature. The complainant, often the same person, has made false allegations against the business model of Amway, says a company spokesperson. Chargesheets have been filed in two cases and trial is pending before the metropolitan magistrate's court.
A case of confusion Pinckney, who came to India in 1998 to set up Amway's business here, says the charges were made by activists, and that the law enforcers are unable to differentiate between the good and the bad. There is no clear distinction drawn between what is fraudulent and what's legitimate, says Ajay Khanna, country head at Herbalife, which has been selling nutritional products in India for the past 15 years and has 250,000 distributors.
A major difference between a Ponzi or pyramid scheme and the direct selling business is that distributors in the direct selling business get compensated only if consumers continue to buy products, while in fraudulent schemes compensation is based on recruiting new participants. While direct selling companies emphasise on bettering their product sales, in pyramid schemes the emphasis is on enrolling new subscribers. There is no entry fee involved and there are genuine business opportunities in the direct selling business, while pyramid schemes charge high entry fees and offer no real business potential. Amway earlier charged an entry fee of Rs.995 but discontinued it in November 2011.
Pinckney says the arrest of Amway executives was shocking. I said, you need to show me one person who has lost his money with us, he tells INDIA TODAY. Amway had a turnover of Rs.2,046 crore in 2013-14 and sells 140 products in India.
Direct selling companies in India say they have been unfairly treated despite making huge investments in manufacturing. Amway makes 95 per cent of its products in India, through contract manufacturers. It is setting up its own plant in Chennai which, once completed, will also make goods for export to Sri Lanka and Bangladesh, and West Asia for the first time. Herbalife has third party manufacturers in Baddi and Paonta Sahib in Himachal Pradesh. Oriflame India, a subsidiary of the Swedish firm Oriflame, has manufacturing facilities in Noida.
The need for regulation
Globally, the World Federation of Direct Selling Associations, that represents direct sellers' bodies in 60 countries, has established a World Selling Code of Conduct for a standard framework in the industry. Also, most countries have laws regulating the direct selling business. In the US, various states have laws regulating multi-level marketing schemes. In Europe, direct selling is regulated under various directives of the European Union. Laws in Singapore deem illegal any scheme that charges entry fee, recruitment commission or does not maintain and audit its records. China restricts the number of products sold through direct selling and disallows entry fees and payments calculated on the number of recruits.
There are no laws that govern the conduct of businesses in India, says Bejon Misra, an expert on consumer laws and founder, Consumer Online Foundation. Neither the police nor state regulators can take action unless some fraud has been committed. This, in turn, encourages fly-by-night operators, he adds. There is a great need to bring transparency in business conduct, since it is all transacted by word of mouth, he adds. Industry body Ficci has suggested a separate regulator for the direct selling industry, its secretary general Didar Singh says.
Government at work
The government, on its part, seems to have woken up to the issue. The previous UPA government had set up an inter-ministerial panel to define multilevel marketing and direct selling and lay down guidelines to differentiate the genuine ones from the fraudulent.
But that has not met with any success. At present, an inter-ministerial panel chaired by the consumer affairs ministry is deliberating on whether the sector needs an independent regulator.
We feel it is important to distinguish between the genuine and fraudulent players, and any proposed regulation should keep in mind the interest of consumers, Consumer Affairs Minister Ram Vilas Paswan said recently, adding that direct selling required more transparency.
The IDSA has framed a self-regulating code of conduct which expects ethical behaviour from its members, including refraining from misleading, deceptive or unfair sales practices, and requires its members to accurately explain products and pricing terms to customers. It also demands ensuring written order forms and receipts, and asks companies to refrain from deceptive and misleading promotions. It claims its members adhere to clean business practices. Amway, for instance, makes 3.6 million payments a year to its distributors through their bank accounts. Herbalife has introduced a gold standard guarantee for distributors when they sign up with the company, which emphasises on free entry, fewer stocks and a 30-day money-back guarantee.
KPMG's Wahi says the direct selling industry in India can touch $15 billion or around Rs.90,000 crore in 10 years, offering huge self-employment opportunities. But for that to happen, the industry needs to come clear on its operations. It can do that not just with help from the government in framing clear laws, but also by setting its own standards and living by them.
Source: https://indiatoday.intoday.in/story/ponzi-schemes-absence-of-clear-laws-direct-selling-industry/1/426093.html