Youngevity Announces Newest Brand Ambassador
April 3, 2015
By Nicole Dunkley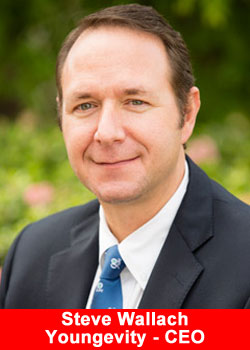 Youngevity Essential Life Sciences, a wholly-owned subsidiary of Youngevity International, Inc, a global direct marketer of nutritional and lifestyle products and also a vertically-integrated producer of gourmet coffees for the commercial, retail and direct sales channels, announced that the founding editor of Creating Keepsakes scrapbook magazine, author of thirteen books, HSN guest host, and mother of five, Lisa Bearnson.
Lisa has joined Youngevity as its new celebrity brand ambassador, serving as the spokesperson for Youngevity's memory keeping product category, which includes Heritage Makers and Our Memories for Life.
Lisa Bearnson has been featured in People Magazine and has appeared on "The Oprah Winfrey Show," "Weekend Today," "Home Matters," and the "American Baby Show." Lisa was also a finalist for the Ernst & Young Entrepreneur of the Year Award for the State of Utah. Prior to founding Creating Keepsakes, Lisa served for seven years as the editor-in-chief of WordPerfect Magazine.
Lisa Bearnson also appeared on the QVC show, "Creating Keepsakes Scrapbooking" for 11 years and has appeared throughout the country on various television and radio shows, as well as in some of the nation's top newspapers and magazines, helping scrapbook enthusiasts to learn how to take better photographs and preserve wonderful memories.
Lisa Bearnson stated, I am thrilled to join Youngevity as its Brand Ambassador and pleased to serve as the spokesperson for its memory keeping category. I love Youngevity products. I use them, my family and friends use them and I am delighted to be able to share with people the reality of what Youngevity can do for them, both personally and professionally.
She added, "Anthology by Lisa Bearnson" is a comprehensive line of scrapbooking and papercrafting products that we expect will be available late Summer 2015! It is being designed as a collection of fresh, fashion-forward designs founded on the principle that quality scrapbooking and memory keeping does not have to be difficult…and I can't wait for you to see it!
"We are very pleased to welcome Lisa Bearnson into the Youngevity family," said Steve Wallach, Chief Executive Officer of Youngevity International. "We believe this partnership with Lisa has come at the perfect time and we plan to leverage her industry knowledge, experience, and passion for this product category to help grow this Youngevity business segment.
Since our strategic acquisition of Heritage Makers back in 2013 we have experienced a growing demand for this product category. Lisa will have a keen focus on training and motivating our distributors and customers that have an interest in scrapbooking as well as assist in the development and marketing of products in this space."
About Youngevity International
Youngevity International Inc., (OTCQX: YGYI) is a fast-growing, innovative, multi-dimensional company that offers a wide range of consumer products and services, primarily through person-to-person selling relationships that comprise a network of networks. The Company also is a vertically-integrated producer of the finest coffees for the commercial, retail and direct sales channels. The Company was formed after the merger of Youngevity Essential Life Sciences and Javalution Coffee Company in the summer of 2011, and changed its name to Youngevity International Inc. from AL International, Inc. in July 2013. For more information, visit www.YGYI.com or find us on Facebook https://www.facebook.com/Youngevity or follow us on Twitter @youngevity https://twitter.com/youngevity.