Zija International Holds Japan Grand Opening Event
April 7, 2015
By Nicole Dunkley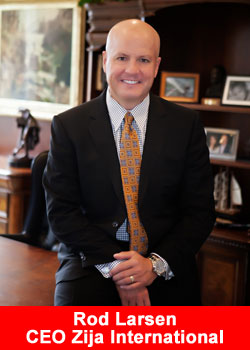 On Wednesday, March 25th, Zija International held their Japan Grand Opening On the Ground (OTG) event at the Maihama Amphitheater at Tokyo Disney. The event celebrated the official start of the product distribution in Japan and gathered around 1,200 Distributors and interested individuals.
Ken Brailsford, Founder of Zija International; Rodney Larsen, President & CEO; Cathy Yeates, Vice President of New Market Development; and Dr. Joshua Plant, Vice President of Research & Development also attended the event to celebrate the Zija Japan OTG event.
The executives discussed the business plan for the ever-growing Japan market, vision of the company, and the strengths of the products; all of which were important for Japanese Distributors to develop their own business with a clear vision. At the event, the price and other details of Zija SuperMix—Zija's Moringa-based nutritional drink mix—was announced.
The strong message of "Life Unlimited" was conveyed with the many important announcements and continues to empower Zija's Japanese Distributors to find success within the company.
About Zija International
Zija International, a privately held and privately funded business founded by Kenneth E. Brailsford and run by Rodney Larsen, develops natural health, wellness, nutrition and fitness products. The company operates in more than 50 countries worldwide.
Zija has seen consistent growth every year since it was founded over 9 years ago and was recently named the "Fastest-Growing Company in Utah" by Utah Business Magazine. It has also been recognized on fastest-growing and top-revenue lists by Inc. Magazine, Direct Selling News, and Utah Valley Magazine, to name a few.
With corporate offices located in Lehi and more than 4 million sq. ft. of state-of-the-art warehouse, shipping and manufacturing facilities located in Utah, United States, Zija International employs more than 200 individuals and has the capacity to grow to more than two billion dollars in annual sales.