Beautycounter Sales Surpass One Million Units
May 12, 2015
By Team Business For Home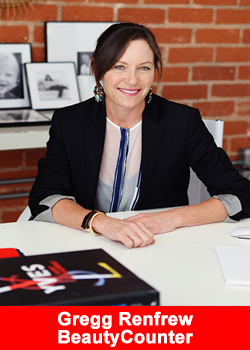 Beautycounter, one of the only certified B Corporations in the cosmetics industry, announced it has sold more than one million skin care and cosmetic products since launching in 2013. Beautycounter sales have grown 325% year over year since Q1 2014, and the company expects to reach two million units sold by the end of 2015.
"We're turning decades of conventional thinking in the cosmetics industry on its head in a quest for better beauty, and our growing customer base proves that the market is ready for the change," said Gregg Renfrew, Beautycounter's founder and CEO.

"When we started Beautycounter, some people were telling us our vision was impossible. Now we're well on our way to reducing harmful chemicals in people's daily lives through our expanding product lines."
Beautycounter has banned more than 1,500 ingredients that are linked to or suspected of contributing to serious health concerns. Examples of ingredients on Beautycounter's Never List include phthalates, BPA, BHA, formaldehyde and synthetic colors and fragrances. Only 11 such chemicals are currently banned from skin care products in the United States, while the European Union has banned or restricted more than 1,300 ingredients.
As Congress considers legislation that would update federal cosmetics laws for the first time since 1938, Beautycounter's growing sales are a clear indication that the company is ahead of regulators, and consumers are voting every day for safer products.
Omnichannel Growth
Beautycounter's unique omnichannel sales approach – direct sales and e-commerce – has fueled its growth. More than 8,600 entrepreneurial consultants now sell Beautycounter products through their personal Networks around the country. The consultant base has grown 252% since this time last year, and the company is aggressively expanding development efforts in many regions and exploring international expansion.
In December 2014, TPG Growth, the middle market and growth equity investment platform of TPG Capital, made a significant investment in Beautycounter, helping to fully optimize its omnichannel model.
Beautycounter's growth also reflects a shift in consumer demand toward brands that value more than simply maximizing profits. A 2014 Nielsen study revealed that brands with a strong commitment to social responsibility saw their sales increase faster than those without such a commitment. Beautycounter's B Corporation certification by the non-profit B Lab means the company meets rigorous standards of social and environmental performance, accountability and transparency.
About Beautycounter
Based in Santa Monica, Calif., Beautycounter is leading the way to better beauty, putting performance and health first. A certified B Corporation, Beautycounter develops and sells chic, professional-grade cosmetics and skin care products made without ingredients linked to health concerns. The company has banned from its products more than 1,500 harmful ingredients linked to cancer, hormone disruption, reproductive toxicity, skin irritation, cumulative exposure risk and other hazards.
Beautycounter was founded in 2013 by Gregg Renfrew, a forward-thinking entrepreneur known for turning concepts into thriving businesses. She sold her successful bridal registry company, The Wedding List, to Martha Stewart Living Omnimedia, where she served the company in executive management.