China's Unveils New Version of Direct Selling Business License
May 6, 2015
By Team Business For Home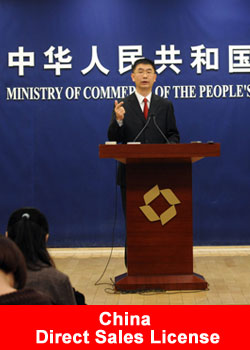 China's Ministry of Commerce (MOFCOM) has released a new version of the Direct Sales License. Companies holding the current 2006 version of the Direct Sales License may choose to switch over to the new license.
In China, companies that sell their own products to consumers (i.e. without going through a distributor or wholesaler) need to obtain the Direct Sales License with the local branch of MOFCOM and the Administration for Industry and Commerce (AIC). The license shall be issued within 90 days from the date of receipt of the application form.
China is currently ranked No.2 in the global direct selling market contributing 23.3% sales to global industry revenues, according to Direct Selling News billion-dollar markets report. Global estimated retail sales topped US$178 billion in 2013, up 8.1 percent from 2012, according to the most recent data from the World Federation of Direct Selling Associations (WFDSA).
The report also notes that if the current rates of growth in the United States and China remain steady, China could become the No. 1 direct selling market in the next year or two.
Source: China Briefing