Four Oceans To Pre-Launch In 5 Countries
May 20, 2015
By Nicole Dunkley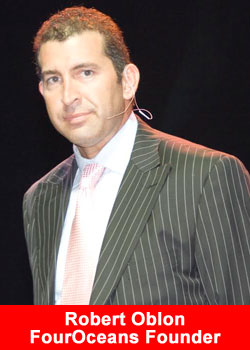 Four Oceans Global, LLC announced that the company is officially pre-launching in an additional 5 countries. Headquartered in Plano, Texas, Four Oceans is the leading lifestyle and professional development learning and experiential social selling company focused on a positive, meaningful life defined and attained through "sustained happiness."
Four Oceans launched on April 6, 2015 and in only its first 5 weeks of operations has already significantly surpassed business growth expectations projected for 1st quarter business operations in the U.S., Australia, New Zealand, Hong Kong and the Philippines.
"Launching the company and getting past the starting gate of building a state-of-the-art (video driven) personal development and luxury travel rewards platform, which is powered by the MLM industry's strongest wealth creation vehicle has been an epic task. Now add an accelerated timeline for pre-launching additional countries and we've taken the already high level of excitement surrounding Four Oceans to a whole new level.
Our business model is clearly resonating with both the personal development enthusiast and the professional network marketer. We're seeing some of the biggest names in the industry getting involved right now and it's happening because of our unique product offering and unmatched wealth creation vehicle," said Robert Oblon, Four Oceans Founder. "We couldn't be happier about the overwhelmingly positive response we've received, especially with how well The Happiness Advantage content is affecting people."
Four Oceans' global expansion for its business model and curriculum have been fast-tracked sooner than initially projected due to the overwhelming demand. Language translations into non-English speaking countries are also underway as even more countries are being lined up for pre-launch by industry veterans.
"Having a self-improvement product and unique business opportunity has been previously attempted over the last 15 years, but never before have both been more needed and timely! New members can choose from three Happiness levels to improve themselves personally and professionally," says Ken Eggleston, Four Oceans U.S. Leader.
"What we're building over the next 12 months on a global yet localized scale and with new and fresh thought-leaders, authors and trainers, will undoubtedly become the benchmark for self-improvement around the world and a great business opportunity as well for those interested in earning income and being part of a community," he added.
About Four OceansFour Oceans is a lifestyle brand that is disrupting the idea that hard work and sacrifice precedes happiness and success. The social selling company, based in Plano, Texas, is at the forefront of the happiness movement. Starting with the '21 Days of Happiness Course', Four Oceans' learning and self-improvement programs are helping people around the world elevate their lives personally and professionally.
Four Oceans offers individuals two ways to get involved with the company. The first way is to sign up to be a Four Oceans customer and take advantage of "Happiness" self-improvement and life skills curriculum and experiential programs. Alternatively, people can become a Four Oceans Partner, joining people worldwide currently enjoying the satisfaction and reward of owning their own business rewarding them for selling products and helping others. Partners earn income and other cash and business incentives based on personal and group performance.
Four Oceans is headquartered in Plano, Texas, serving the US and Asia. For more information about Four Oceans, visit FOUROCEANS.com and follow FOUROCEANS on Facebook and Twitter (@weareFOUROCEANS).