Herbalife Reports Quarterly Revenue At $1.11 Billion – Beating Wall Streets Expectations
May 6, 2015
By Tina Williams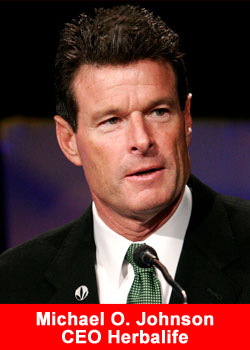 Nathan Vardi at Forbes reports:
Herbalife , the controversial nutritional supplements seller, delivered a blow to its adversaries on Tuesday by reporting first-quarter earnings that suggested its business model was not as broken as some had predicted.
Herbalife reported that in the first three months of 2015 it earned $1.29 per share on an adjusted basis, beating consensus estimates on Wall Street that had called for the company to earn $1.01 per share, the bottom of the company's first quarter earnings guidance of $1.00 to $1.10 per share.
In addition to the earnings beat, the company raised its earnings per share guidance for 2015 to a range of $4.30 to $4.60 per share. The previous range Herbalife had given investors was $4.10 to $4.50 per share. Herbalife posted revenue of $1.11 billion in the first quarter of 2015, beating Wall Street's revenue expectations for the company, too.
Shares of Herbalife rose by 15% in after-hours trading to $46.21, its highest level of 2015.
As the week began, billionaire hedge fund manager William Ackman predicted on Bloomberg Television that he expected Herbalife to report "a very bad quarter," saying "we expect continued deterioration of the business."Ackman's Pershing Square hedge fund has been shorting Herbalife's shares in a big way for more than two years, calling the company a Pyramid scheme and betting that Herbalife's stock will collapse.

When this battle first started, it seemed like Ackman was hoping regulators would shut the company down, but these days Ackman is saying that "the fundamentals in the case of Herbalife will likely take the company down, will take the company down probably before the regulators do."
Herbalife, which sells diet shakes through a network of independent distributors, is under investigation by the Federal Trade Commission. The company has responded to the intense regulatory scrutiny by changing some of its business practices and curtailing its more aggressive tactics when it comes to recruiting new distributors. It has launched a new sales program called the "Gold Standard." Critics of Herbalife claim the company makes most of its money by recruiting distributors rather than selling products. The company's changing business practices have weighed on Herbalife's financial performance.
Indeed, Herbalife first quarter earnings per share were down by 14% from the same period in 2014, when the company earned an adjusted $1.50 per share on revenue of $1.26 billion–13.5% higher than in the first quarter of 2015.
Still, Herbalife CEO Michael Johnson, used the first quarter numbers to argue that Herbalife's business model was fine. "As reflected in our record sales leader retention results, we remain confident that we are building a stable foundation for volume and sales growth, driving long-term shareholder value creation," Johnson said in a statement.