I Am a Force4Good Founder Announces Launch of Direct Selling Company
May 2, 2015
By Team Business For Home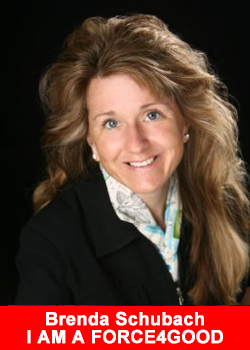 Brenda Schubach, Founder and Executive Director of I Am a Force4Good, a human interest company creating opportunities for women around the world announced the launch of a direct selling company as part of a new stage of growth.
"What started as a passion for helping women around the world by providing sustainable incomes through fair trade, handmade products has grown into an even more sustainable income opportunity for women. I AM A FORCE4GOOD will officially launch as a national direct selling company on July 6th 2015." says Schubach.
Schubach shares her vision, which is "to help women achieve and maintain sustainable independence for themselves and their children."
"I deeply believe in what Anne Frank said," writes Schubach. Her quote, "No one ever became poor by giving" is one of Schubach's guiding principles. She adds, "We all have so much to give to each other in the way of moral support and encouragement. We love buying organic and natural skin care products. We love buying gifts for our friends and families that are unique and have fascinating stories that brought them into existence."
As Schubach reports, "All the products available through the direct selling opportunity provided by I AM A FORCE 4 GOOD are fair trade, natural, organic and handmade by women throughout the U.S. and around the world."
ABOUT BRENDA SCHUBACH
Coming from a background in criminal justice, Brenda worked with domestic violence victims, exploited children and those living in poverty, at the Department of Justice and Boston's Children's Hospital in conjunction with Harvard University. After contributing to a guide for prosecuting attorneys in domestic violence, Brenda embarked on a new career of education and visual merchandising, studying at Rensselaer Polytechnic Institute, SMU, and Stanford University. Her business savvy, legal background and passion to help others has given rise to her founding and serving as the Executive Director of I am a Force4Good, a company she created to help bring dignity to women around the world with fair and equal opportunities.
ABOUT I AM A FORCE4GOOD
I am a Force4Good's Vision is to empower women and young girls locally and internationally with equality in education, employment and social justice. ?We are about creating 360-degrees of healthy & sustainable living for all of humanity globally. We offer beautiful, handmade, artisan gifts made with meaning and purpose. Specifically, we help women from around the world (many of whom have faced very difficult situation in their lives) to create business opportunities for themselves.
Learn more about our Fair Trade & Organic Gifts at www.IamaForce4Good.com