Italian MLM Evergreen Life Achieved 5.7 Million Sales In 2014
May 26, 2015
By Team Business For Home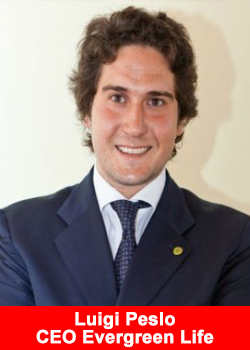 Evergreen Life Products, a manufacturer of food supplements and wellness products that are distributed through network marketing in Italy achieved 5.7 million Euro in sales in 2014 and is about to venture into US and Russia.
The brainchild of Livio Pesle the company was founded in 2010 and has launched a line of nutritional supplements and wellness products based on Olivum, an aqueous extract of olive leaves.
He found that despite the abundance of olive trees in Europe, the use of this plant as a food supplement was more widespread in Southeast Asia and the US, but primarily in the form of pills.  Evegreen offers it in liquid form in supplements, fruit jellies, face creams, cleansers and other products.
Since 2004, Pesle has been experimenting with the infusion of olive leaves, but was facing a challenge with removing its bitter taste from the extract. In 2010, he entered into a scientific collaboration with the Faculty of Pharmacy of the University of Trieste and eventually the product was developed with a pleasant taste and patented.
The company, which manufactures and sells in Italy, also exports to several European countries, including Germany, Spain, Austria and Slovenia, and has grown from a turnover of about 1.5 million euro in 2012 to over 5.7 million in 2014 (+ 90% compared to 2013). In 2015, after a first quarter with 2.2 million in revenues (+ 120% compared to the first quarter of 2014), the goal is to reach a turnover of 9 million euro and a production of 500,000 bottles of its flagship product – the ' supplement Olife – which in 2014 sold just under 300000 bottles.
In addition, Evergreen Life Products is also expanding into the United States and in Russia this year.
In Italy, network marketing is promoted largely by American corporations and is not yet widespread. says Luigi Pesle, the 28-year-old CEO of the company and son of the founder. Word of mouth communication is far more effective than putting products on the supermarket shelf especially for a new product like Olife, which if not properly explained, will not achieve the desired sales results.  
There are about 6,000 distributors promoting Evergreen Life Products in Italy currently.
For us it is better, in an economic situation such as this, to give people the opportunity to create a job, and a parallel income. And help generate employment in Italy, adds Pesle.