JAFRA Cosmetics Names New President of Brazil & S.America
May 1, 2015
By Team Business For Home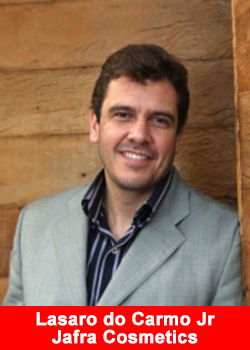 Lasaro do Carmo Jr. has joined JAFRA Cosmetics International as President of JAFRA Brazil and South America. He will lead JAFRA Brazil's growth as well as help JAFRA expand further within South America. He will report to Mauro Schnaidman, President and CEO of JAFRA Worldwide.
Do Carmo brings with him a wealth of experience in both the cosmetics and the direct selling arenas. His career began in the French pharmaceutical company Sanofi-Aventis. In his most recent role as acting CEO of a Brazil-based direct seller, his leadership and strategic management led the company towards significant growth in sales and revenue. In various senior positions at another direct seller in Brazil and Argentina, do Carmo also played a major role in areas such as commercial sales, marketing, operations and training.
His experience, coupled with strategic planned investments in marketing, consumer experience and infrastructure, will optimally position JAFRA Brazil for further growth and success.
"I am thrilled to have Lasaro join our team," says Schnaidman. "His passion, dedication and expertise will be essential to realizing our strategic roadmap in Brazil and our expansion into South America."
About JAFRA Cosmetics
JAFRA Cosmetics International, Inc. is a leading manufacturer and direct-sales marketer of beauty and skin care products with operations in 18 countries around the globe. The privately-held company has more than 550,000 Independent Contractors (Consultants) and annual revenue in excess of half a billion U.S. dollars. Since 2004, JAFRA has been a member of the VorwerkGroup, a family enterprise established in 1883 with headquarters in Germany.