Kelly Bangert – Top Earner and Top Trainer Interview
May 14, 2015
By Tina Williams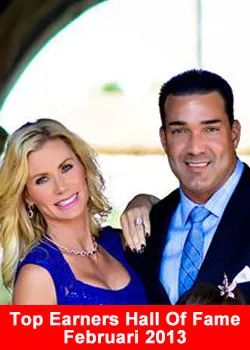 Kelly Bangert is a Double Diamond, and Multi Million Dollar Earner in a Network Marketing company and started out his career as a decorated police officer with a mission to make the world a better place.
He quickly learned he also had a talent for business and direct marketing and went on to create "2" award-winning distributorships – setting records all along the way.
His passion to help people led him to seek out and to collaborate with $14 million top earner, Mitch Huhem, on a revolutionary new way to build and grow your business globally, with the Go Major training system.
Raised by a hardworking single mother who worked multiple jobs to keep a roof over their heads, Kelly's life was changed forever when at 8 years old his family's home burned to the ground. This event propelled him to take charge of his life and succeed at a level where he would never be at the mercy of life's random events again. He learned to make the best of every situation and to never give up, no matter what.
Early on, he saw that hard work, persistence, belief, humor, and aligning himself with a cause and mission bigger than himself were the keys to meaningful success. He also became passionately dedicated to helping others take control of their lives and to become so prosperous and secure that they would never experience helplessness and they would always be in a position of strength to truly help others and be a blessing in this world.
Ted Nuyten had the honor to interview Kelly Bangert:
Kelly, you are a well known leader in the Direct Selling Industry, why did you develope a generic network marketing training system?
Attrition is and always has been an issue in this industry and I can't control it or stop it. When you have a huge organization it's impossible to know everyone on your team and the reality is you may only know 1 % or less.
So the masses don't get the training, the coaching or the mentoring they need. I wanted to create something to help the masses not just in my business but worldwide in this great industry. This is my passion and there are good people struggling in their businesses right now. Having the right training and a system will help them build their business and put themselves and their teams in a position to succeed.
I know what a good mentor can do. I was struggling when I first started and made all the mistakes most people make. I was about to quit until I was trained by my mentor. It took me from a few thousand dollars in earnings to over one million in one year. I have now put all of that and so much more into this training so people can avoid the mistakes I made and succeed faster and bigger than they ever thought possible.
Go Major – Network Marketing Training System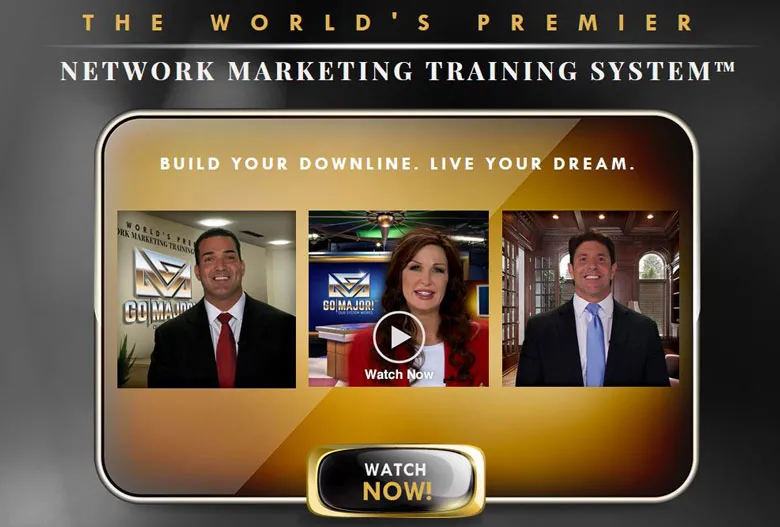 How does your system reduce attrition in the industry?
People make money, but systems create wealth. Personalities are not duplicable but a system is. Most people that get into Network Marketing don't have the skill set to contact everyone they know and present their products, opportunity, take rejection, overcome objections, invite people to meetings, follow up, follow through, enroll people and then train them.
Most people never even make a list and the ones that do usually only contact 3 to 5 people and after they get 3 to 5 no's they quit. This is why 98% of the people in this industry never make significant incomes, they don't have the skill set, their upline never trained them or their upline quit and they have no help, no support and no real chance to succeed.
Our Start Right system will do the contacting, presenting and follow up for you to 25, 50 or 75 of your contacts. Our MIT, Millionaire In Training will train you and your entire team. If everyone is following the instructions in the MIT and everyone in your downline is using the Start Right, now finally duplication will occur deep into your organization and free everyone up to do what they do best, Build Relationships.
Why should someone use your MIT instead of doing the training themselves?
I will speak from personal experience as a successful leader in this industry. I spend 20-30 hours training a brand new person. 1 out of 10 new people I sign up actually does anything in my business that I bring in.
That's the law of average based on my own personal experience. So let's take 20 hours and multiply that by the 9 people that never do anything that equals 180 hours that I can never get back. In addition to that most people that I train will not remember everything I teach them and they always come back to me asking a lot of the same questions.
If I gave all 10 of my new prospects the MIT that will not only save me 200 hours, but now all 10 of my prospects will have 18 DVD's, 18 C'D's and a Training Manual/Workbook. They will know everything I know and have all of their answers at their fingertips. This is powerful, now I can prospect 2-3 times more people knowing that a Training System can train all of them at the same exact time. That is duplicable.
Kelly, there are a lot of successful entrepreneurs like Doctors, Lawyers, Dentists and other professionals that just don't have time to build a Network Marketing but want the residual income. How could your system work for them?
Great question. Every professional you just mentioned would love to have residual income because they only get paid for the work they do on each client or patient. Our Start Right system will contact 25, 50 or 75 of their best contacts and present the opportunity and do the follow up for them.
The MIT could educate and train them on how to be a professional in Network Marketing or their Assistant who could then sign up all interested prospects. Go Major Start Right does the work for you in the most professional manner and is rejection proof.
Your own executive assistants do the follow up for you by calling each of your prospects to see who is interested in receiving sample products from your company.
Contact details Kelly Bangert:
www.gomajor.com or call toll free 1 877 600 0067