Medifast CEO Named EY Entrepreneur Of The Year Finalist
May 6, 2015
By Team Business For Home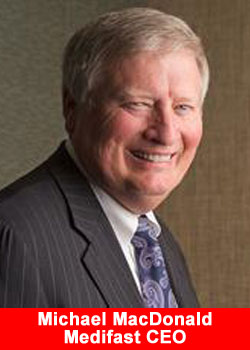 Medifast, Inc. a leading United States manufacturer and provider of clinically proven weight-loss and healthy living products and programs, today announced that Michael MacDonald, Chairman and Chief Executive Officer, was named a finalist for the EY Entrepreneur Of The Year® 2015 Award in the Maryland Region.
The 29th annual awards program recognizes entrepreneurs who demonstrate excellence and extraordinary success in such areas as innovation, financial performance and personal commitment to their businesses and communities. A panel of independent judges selected the 24 Maryland finalists.
Without our passionate executive team and dedicated employees who truly embody the Company's entrepreneurial spirit, this honor would not be possible, said Michael MacDonald, Medifast Chairman and Chief Executive Officer. This award is a reflection of the hard work and dedication of many who remain focused on helping our customers live healthier.
At Medifast, MacDonald has been instrumental in enhancing the customer experience and leading the effort to provide new products, programs, and tools that make weight management and healthy living a reality for many. Under MacDonald's direction, in 2014, the Company launched the most new products in its history, introduced new program offerings, and partnered with leading fitness tracker Fitbit®.
Additionally, MacDonald serves as a Board Member of the Direct Selling Association. He has also led the Company's expansion into Mexico, South America, and Central America through a partnership. Medifast also furthered its global reach with the approval of its products and program in Canada. With the help of MacDonald's vision, Medifast has continued to build the infrastructure and expertise necessary to position the Company for profitable growth and international expansion.
Award winners will be announced at a special gala event on Thursday, June 25 at the Baltimore Marriott Waterfront.
About Medifast:
Medifast is the leading easy-to-use, clinically proven weight-loss program. The company sells its products and programs via four unique distribution channels: 1) the Web and national call centers, 2) the Take Shape For Life personal health coach division, 3) Medifast Weight Control Centers, and 4) a national network of physicians. Medifast was founded in 1980 and is located in Owings Mills, Maryland. For more information, log onto www.MedifastNow.com.