Medifast Q1 revenues down 7% to 73.4 million
May 7, 2015
By Team Business For Home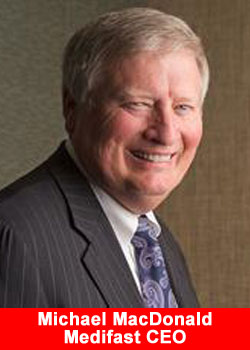 Medifast, Inc. (NYSE: MED), a leading United States manufacturer and provider of clinically proven weight-loss and healthy living products and programs, today reported financial results for the first quarter ended March 31, 2015.
For the first quarter, Medifast net revenue from continuing operations decreased 7% to $73.4 million from net revenue of $79.2 million in the first quarter of 2014.
We are pleased to get off to a good start this year by exceeding our first quarter top and bottom line guidance, said Michael C. MacDonald, Medifast Chairman and Chief Executive Officer. We continue to execute well operationally while putting the plans in place to advance our three key strategic priorities; to grow and simplify Take Shape For Life, optimize Medifast Direct revenues and deliver product and program innovation. We are very focused on returning to a growth trajectory in 2015 while we continue to drive improvements in shareholder value.
Revenue in the direct sales channel, Take Shape for Life, decreased 9% to $52.1 million in the first quarter of 2015 compared to $57.0 million in the same period last year. The Company ended the first quarter with approximately 10,500 active Health Coaches and the average revenue per Health Coach per month for the quarter was $1,564 compared to $1,626 in the first quarter of 2014.
The Company's Medifast Direct channel revenue decreased 16% to $14.4 million, compared to $17.1 million in the first quarter of 2014. This marks the third consecutive quarterly improvement in the rate of decline and results were in-line with the Company's expectations as it continued to focus on efficiently managing marketing investments.
Revenue in the Franchise Medifast Weight Control Centers channel increased 31% to $4.7 million from $3.6 million in the first quarter of last year. The increase in revenue was driven by the conversion of corporate centers to franchise centers, partially offset by franchise center closures as well as a decrease in sales of franchise centers open greater than one year. There were 70 franchise centers in operation at the end of first quarter 2015 compared to 49 centers at the end of the same period last year.
The Company expects second quarter 2015 net revenue from continuing operations to be in the range of approximately $72.0 to $74.0 million.
For fiscal year 2015, the Company reiterated its previous guidance of revenue from continuing operations to be in the range of $285 to $300 million.
About Medifast
Medifast (NYSE: MED) is the leading easy-to-use, clinically proven weight-loss program. The company sells its products and programs via four unique distribution channels: 1) the Web and national call centers, 2) the Take Shape For Life personal coaching division, 3) Medifast Weight Control Centers, and 4) a national network of physicians. Medifast was founded in 1980 and is located in Owings Mills, Maryland. For more information, log onto www.MedifastNow.com.